Rosary bracelet – Vietnamese agarwood one of the best-selling Agarwood bracelets at Thien Moc Huong. Crafted from Agarwood from Vietnam. Usually, a single bracelet will consist of 17-21 beads (can vary depending on the wearer's hand size). The design for the bracelet is simple but impressive. This is a special and meaningful piece of jewelry, ideal for gift giving.
Significance of Agarwood and Rosary bracelet – Vietnamese agarwood
Since ancient times, agarwood is considered a more precious wood than gold. It is found deep in the forest. Therefore, it is the place to lead the spirit of heaven and earth and is elaborately created by craftsmen from Thien Moc Huong through many stages. Single round beads represent simplicity and are classic, suitable for those who like elegant, classic designs. Beads round easily, they are not too fanciful, but still hold class and can carry many meanings in feng shui.
Agarwood has been crafted into splendid jewelry for Kings in ancient times. Concubines often use frankincense due to its pleasant, mellow scent, which is a perfect way to get a good night's sleep. Currently, agarwood jewelry is increasingly sought after, and favored by many people because of its unique qualities in the spiritual field. The simple rosary ring represents traditional simplicity and is ideal for those who appreciate it. Gentle classic style. Round beads are simple, and unobtrusive but still exude their own charm. They also have many meanings.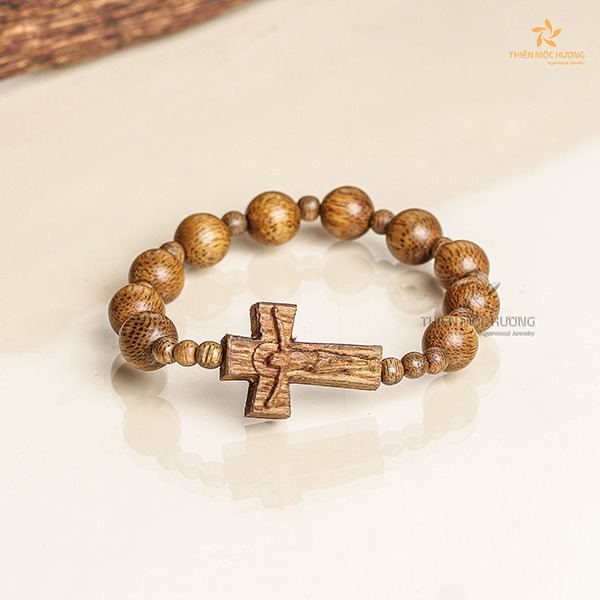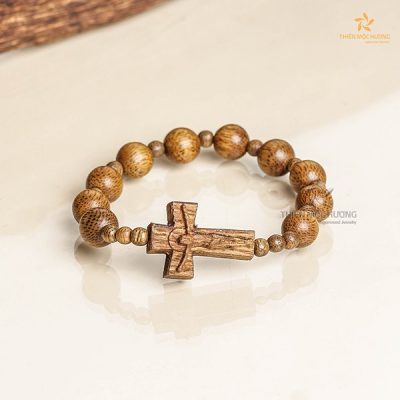 Uses of Rosary bracelet – Vietnamese agarwood
Single wooden bracelet of Agarwood Vietnamese rosary is considered as an item that brings good luck when worn. This jewelry can help ease feelings of heaviness, ease stress, neutralize the negative influences of bad luck, good luck, and bring peace. In a marriage relationship, when husband and wife are together, in tune with each other, their love is transformed and lasting. Find a necklace that fits your life purpose and also keeps you happy and cheerful every day.
Why should you choose Rosary bracelet – Vietnamese agarwood?
A heart is always towards each other, caring for each other. A sentiment that transcends time and geography. A strong and desirable love. Time will prove that they belong together, are all together.
Love always has demands and requests from the other side. And to maintain that love, every couple always needs sympathy. Always one heart for each other, care for each other. A love that transcends geography and time. A deep and lasting love. Time will show that they are a couple and get along very well.
That image is similar to that of Tram Huong, taking her time to make a distinct impression. As time goes on, the smell becomes more appealing and subtle. It is because of that resilient lightness that Agarwood has become a "given" mascot. From its defensive reactions, the accumulation of agarwood gives itself an incomparable fragrance. To the extent that even the research works to create the smell. It is also not possible to create a scent similar to that of Agarwood.
Therefore, it can be said that the single Rosary Agarwood bracelet is a worthy gift. Symbol of love of couple.
The process of making frankincense