Product Description Agarwood Nine-tailed Bracelets VN over 14 Years
The nine-tailed fox Stone Agarwood bracelet is one of the best-selling Agarwood bracelets at Thien Moc Huong. The bracelet is made from Agarwood (Agarwood) wood originating from Vietnam. Usually, bracelets will be made from 17 to 21 beads (which can vary depending on the size of the wearer's hand), the number of beads will be selected based on the rule of the cycle of "birth – old age – illness – death", in order to good luck to the owner. It is recommended to choose the number of seeds that are divided by 4 with the remainder 1, whereby the last seed will fall into the word "birth".
Nine-tailed fox is made from marble, or quartz … has a fanciful, pure color that is very suitable for making feng shui jewelry. Agarwood Nine-tailed fox Stone bracelet has many colors suitable for each zodiac sign Kim – Wood – Water – Fire – Earth.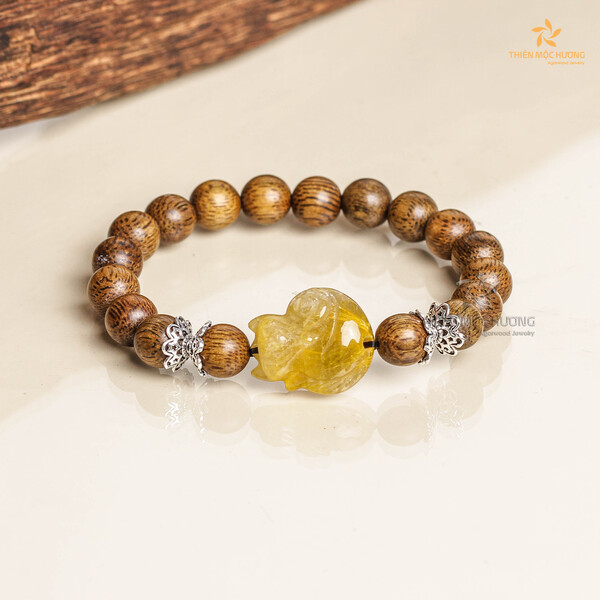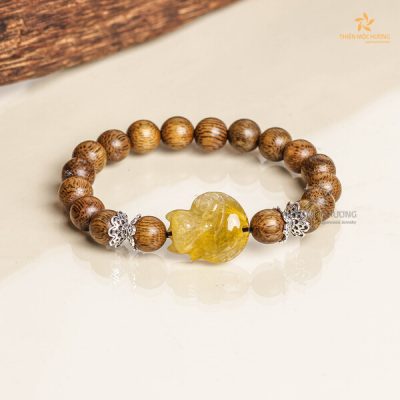 What does the Thien Moc Huong incense bracelet set include?
1 natural agarwood bracelet, a box with high-quality materials to celebrate the 40th anniversary of TMH
Luxury membership card of Thien Moc Huong (member card),
Instructions for preserving the bracelet so that the bracelet can fully promote its feng shui effect.
In addition, comes with a high-end box, and there is also a set of spare beads and strings
Strings and beads so that customers can easily change strings, change beads in case they want to expand or shrink the bracelet for the best fit. Member card helps customers to go to any store in Thien Moc Huong for a free lifetime product warranty (replace wire – polish beads) for life.
The meaning of the image of Nine Tail
Nine-tailed fox in folklore is a mascot that comes from foxes. Through the process of long-term cultivation, becoming a star turned into a fox, so it is not only smart and agile but also sharp. Nine-tailed fox stone face brings luck in love, and family happiness and also has the use of bonding the feelings of husband and wife.
Trendy jewelry gift for women
The image of the fox is used as a symbol of beauty, wisdom, and power. Especially for women, owning a fox bracelet will bring luck in love, wisdom in communication, and behavior in life.
For businesswomen or managers, owning a fox bracelet will help them gain more confidence in their power. From there, make the most accurate orientations and decisions, and at the same time gain the respect of colleagues and subordinates. In addition, the Nine-tailed fox also has the meaning of bringing wealth and wealth to the owner.
CHOOSE A Bracelet of Agarwood Nine-tailed fox Stone for career advancement and good luck in life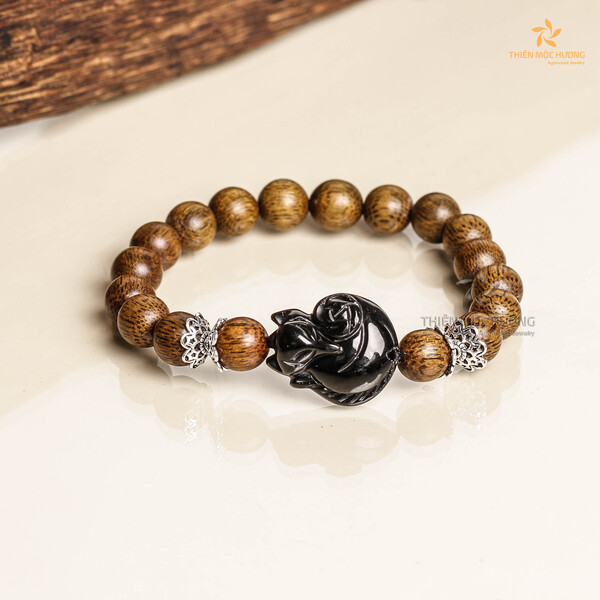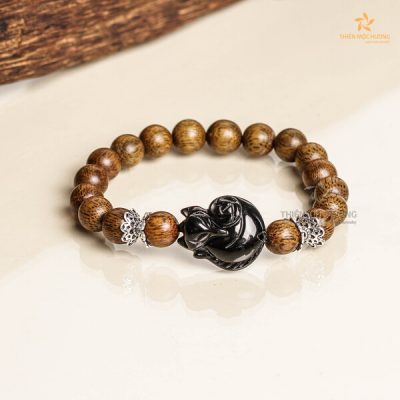 Perfect use when combining Agarwood and Nine-tailed fox Stone
Agarwood is a sacred "Spirit Wood", a "spirit of heaven and earth", so it has a very high meaning in terms of mind, which is feng shui. The perfect combination of Spirit Beasts and Spirit Woods will bring their wearer positive energy, luck, and boundless fortune. Agarwood has a mild scent, helps our spirit to feel comfortable, and refreshed, comfortable, dispels frustration and fatigue.
The Agarwood bracelet Nine-tailed fox Stone is an amulet, the purpose of which is to dispel all evil spirits, and darkness, and neutralize bad omens around the wearer.
The one that keeps the love
– If you are single, this symbol will attract loyal and sincere people to stay with you because they not only help your love grow stronger but also enhance the romance in love affairs.
– For people in love, the symbol will help stable relationships and lead to marriage. When possessing this item, the person who has been hurt emotionally can heal the wound, with altruism, spirit, and an open heart. Wear Fox Bracelets with you for them to work.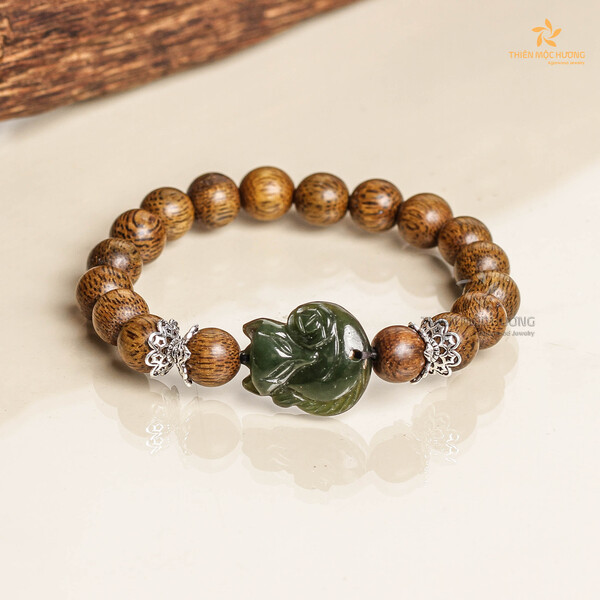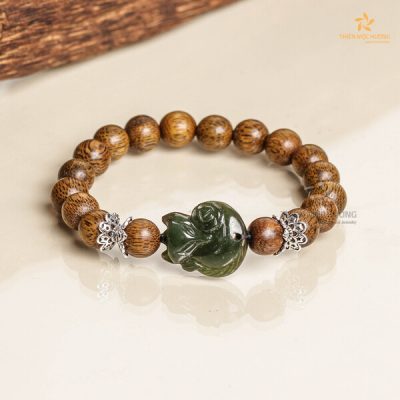 The Agarwood Nine-tailed fox Stone bracelet is a charming string to bond the love of husband and wife
The fox is an animal that helps prevent the development of a third person's emotions. Therefore, if you are afraid that your husband will have other joys, you can use a Black Fox (the symbol is made from black stone) to help protect your family's feelings, then get yourself one. The black stone fox bracelet will help you prevent and destroy possible love relationships with a third person.
Items that bring in wealth
– Nine-tailed fox bracelets also help business people stay awake before all offers, have the ability to convince customers, and help increase understanding, thereby having enough experience in the business. Therefore, women who are doing business and trading should wear Nine-tailed fox Bracelets to attract fortune.
In addition, Agarwood Nine-tailed fox Stone Bracelet also brings freshness to the wearer because of its sophistication and fashion in design, very luxurious and exudes nobility. Especially more favorable at work, joy, and luck will come, health will also improve and bring many other changes. This product belongs to the best-selling agarwood bracelet collection for women at Thien Moc Huong currently.
Manufacturing process: