Product Description
Nine-tailed fox agarwood 108 mala beaded bracelet – classic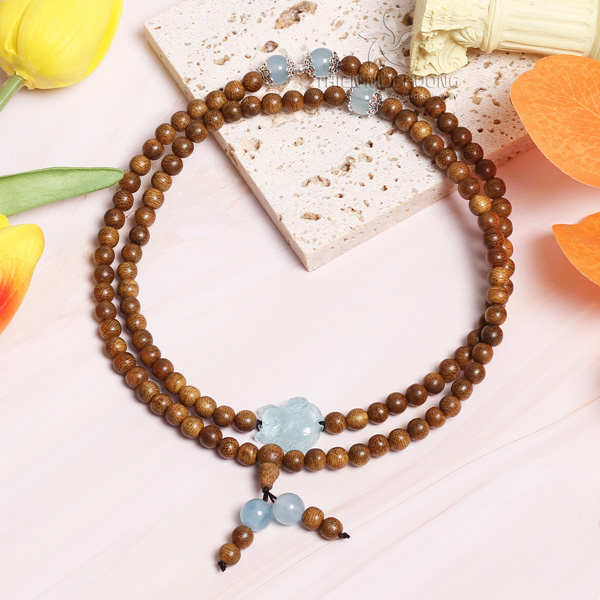 I. Information about Nine-tailed fox agarwood 108 mala beaded bracelet
Material Agarwood 100%
Country of Origin: Laos
Number of seeds: 108 beads (depending on size)
Agarwood ages: 12 – 14 years sedimentary
Usage:
+ Female favorites
+ Gifts for relatives, friends or colleagues
+ Brings good luck, helps mental comfort, reduces anxiety and stress
II. Product Description
The 108 stone fox bracelet is the perfect combination of two symbols that bring happiness, the most attraction, and is very popular as an item that brings good luck.
Ho Ly in folklore is a mascot that comes from foxes. Through the process of long-term cultivation, becoming a star turned into a fox, so it is not only smart and agile but also sharp. They are the number 1 mascot in feng shui to pray for charm, love, and family happiness. When Ho Ly transforms into an ordinary person, she is extremely beautiful, smart, and has a strange charm, so her personality is extremely strong.
The image of the fox brings luck in love, and family happiness and also has the function of bonding the feelings of husband and wife. In addition to the use of the love line, Ho Ly also has the effect of improving social and work relationships.
The number 108 represents all human troubles in life. The 108-grain bass ring helps the wearer dispel daily insecurities. Bringing peace and tranquility to life, protecting the owner from market failures, and unpredictable calamities. People who wear Agarwood bracelets with 108 beads are for peace of mind, undisturbed by the market, depression, and hope that peace and happiness will come to them.
III. Agarwood Production Process