The product is made from Vietnam Toc Agarwood which is taken from the natural environment, not affected by human hands. In particular, agarwood originates from Ha Tinh forest, growing naturally, so the ring quality is much better than other fasteners on the market. With the characteristic dark brown color and deep, sharp veins, the product promises to bring high aesthetics and many great uses to the wearer.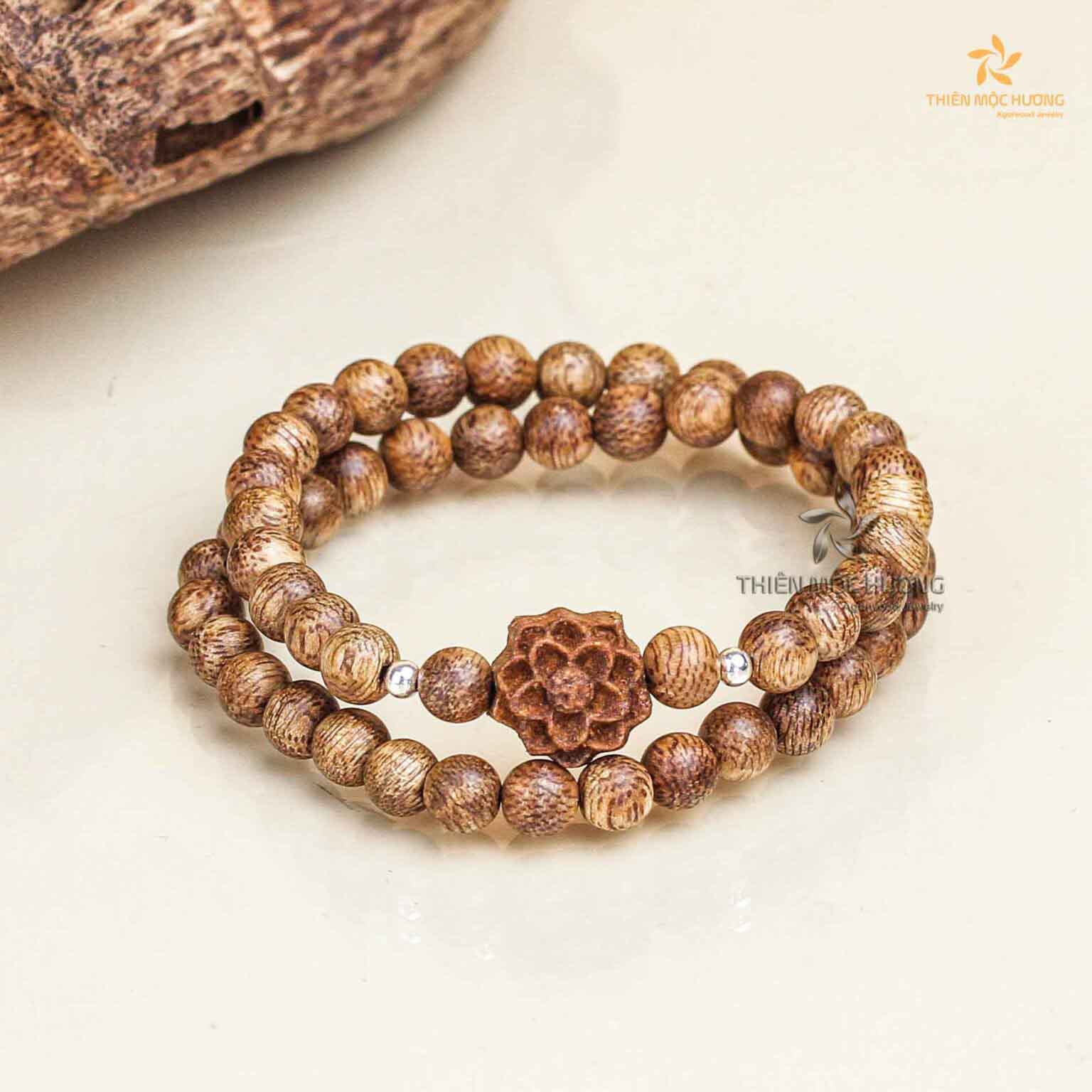 I. Information about Lotus Double Agarwood Bracelet
Material: Agarwood 100%
Country of Origin: Vietnamese Toc Agarwood
Number of seeds: 54 beads
Agarwood ages: 12 – 14 years
Usage:
+ Female
+ Gifts for relatives, friends or colleagues
+ Brings good luck, helps mental comfort, reduces anxiety and stress
+ Meaningful presents toward Buddha, Business
II. Product description of Lotus Double Agarwood Bracelet
The lotus flower holds great philosophical and spiritual significance in the lives of Vietnamese people. Despite growing in muddy and foul-smelling waters, the lotus remains pure, blossoming with its unique and intoxicating fragrance. Fragile yet resilient, the lotus exudes a gentle and discreet scent, symbolizing grace and noble qualities. The ancient Vietnamese likened the dignified presence of the lotus to individuals of high moral character, while its graceful form was compared to that of an elegant and refined woman. Above all, the lotus represents the Vietnamese spirit – strong and determined.
The stylized lotus charm is crafted from natural agarwood, harboring positive energy that brings joy, happiness, and serenity to the wearer. The agarwood lotus charm is regarded as a precious talisman that brings wealth and prosperity. Each destiny has its own complementary and auspicious colors, which help replenish the energy of one's own destiny, attracting positive energy, fortune, and tranquility.
III. The benefits of the Lotus Double Agarwood Bracelet
The natural agarwood bracelet has the ability to attract celestial energy, absorbing the essence of heaven and earth, thereby granting its owner abundant luck and great fortune.
The Agarwood Lotus Bracelet has captivated countless women. Unlike other accessories, it not only exerts a strong and compelling allure on jewelry enthusiasts but also carries high value in terms of mysticism, feng shui, health, wealth, and luck.
IV. Process of making Lotus Double Agarwood Bracelet