Amorphous agarwood bracelet helps the wearer have more spirit, energy and strength to overcome the difficulties encountered in life.
I. Information of Amorphous Agarwood bracelet
Material Laos Agarwood 100%
Country of Origin: Laos
Number of seeds:  9 seeds (depending on arm size)
Beads size: 6mm – 7mm – 8mm
Agarwood ages: 40 – 50 years sedimentary
Usage:
+ Male's favourites
+ Gifts for relatives, friends or colleagues, subordinates
+ Brings good luck, eliminates sorrows
+ Meaningful presents toward Buddha
II. Amorphous Agarwood bracelet Description
1. General description of Amorphous agarwood bracelet
The Laos Amorphous Agarwood Bracelet is unadulterated natural frankincense, intact the rough and unique thorniness of the agarwood fragments – symbolizing resilience, courage and perseverance. Helping the wearer with more spirit, energy and strength to overcome difficulties.
2. The meaning and use of Amorphous agarwood bracelet
Agarwood bracelet has long been considered a feng shui item, is a simple jewellery accessory but can make the wearer become more luxurious and impressive. In all kinds of jewellery, agarwood is not only valuable but also very delicate and simple. With this bracelet, you can combine with a variety of costumes and use in any case. Always respect the noble beauty, elegance, elegance never fear fashion.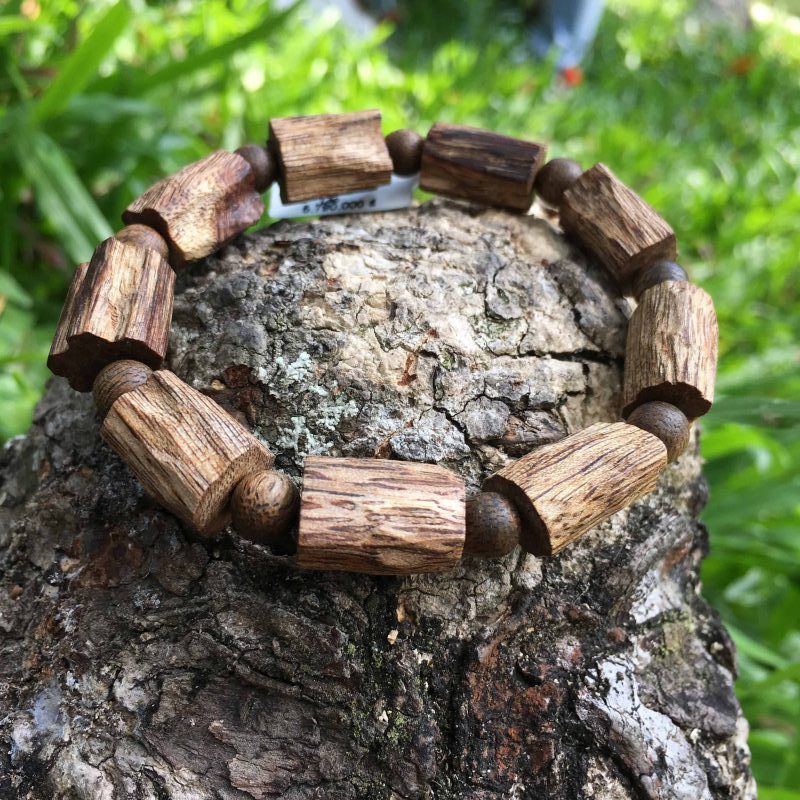 CHOOSE NOW for yourself a Laos Amorphous Agarwood Bracelet for convenience in business, career advancement and good luck in life.
Agarwood used to make the Amorphous bracelet of Laos is mainly obtained from Laos, the oil is beautiful, the fragrance is pleasant. Agarwood from Laos has the value of rare and high-class, giving customers a wonderful experience from scent to finished products.
IV. Agarwood Production Process