I. Information of Indonesia agarwood bracelet
Material: 100% natural Agarwood 
Country of Origin: Indonesia
Number of seeds: 14 – 17 beads (depending on size)
Agarwood ages: 50 – 60 years sedimentary
Usage:
+ Female's favourites
+ Gifts for relatives, friends or colleagues
+ Brings good luck, attracting fortune, connecting the love
+ Meaningful presents toward Buddha
II. Description of Indonesia agarwood bracelet
1 / Single Round Agarwood Rosary
Indonesia agarwood bracelet can be made from 14 or 17 Agarwood beads. Especially, with a gentle, faint scent, it makes the wearer feel comfortable and comfortable. In particular, this type with over 50 years of sediment. Therefore, the bracelet becomes more precious, high-end, helps increase health, exorcise, bring prosperity, a fortune for the wearer. The rustic but impressive bracelet design is unique, meaningful jewelry suitable for gifts.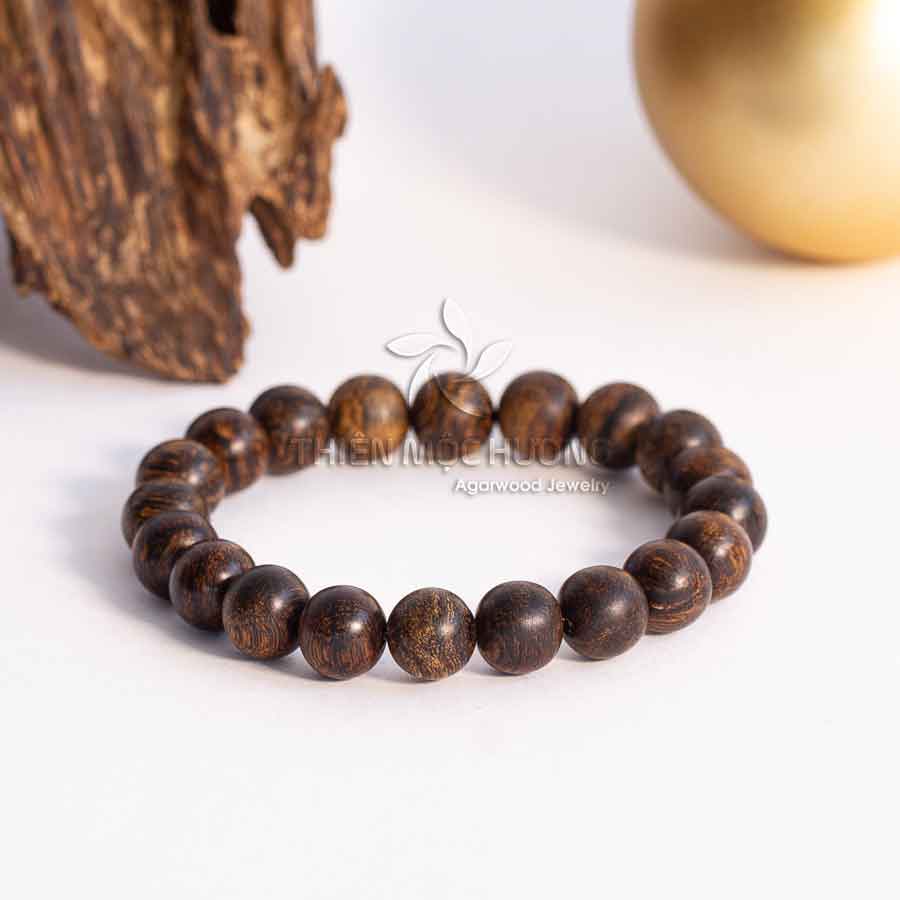 2 / Meaning of the number of beads of Indonesia agarwood bracelet
The number of seeds will be selected based on the rules of the cycle of "birth – old – disease – death" to bring good luck to the homeowners. Should choose the number of seeds divided by 4 remainders 1. Accordingly, the last particle will fall into the word "birth". Therefore, the bracelet usually has 14 beads or 17 beads. However, the number of beads can still vary depending on the size of the customer's wrist. Importantly, it still, ensure the rules of the cycle of reincarnation.
3 / A simple, luxurious jewellery for a modern woman
Indonesia agarwood bracelet carefully selected and meticulously suited to ladies who like simplicity but no less luxurious, sophisticated. When wearing incense bracelets, it around helps ward off evil, bringing good fortune and afternoon fortune.
Because they are feng shui bracelets, when worn, they also bring peace of mind, mental intelligence in work and life, especially, for modern women. A simple Agarwood necklace will make them more charming and confident. Simple but noble, delicate. This is one of the designs of the collection of Lady Agarwood bracelets at Thien Moc Huong
SHOP NOW for yourself a Single Agarwood Bracelet Submerged in Indonesia, increasing the elegance and elegance.
4 / Indonesia agarwood bracelet
Agarwood has a soothing scent, helping our spirit feel comfortable, refreshing, comfortable, dispelling the frustration and fatigue as if bringing a new energy source of luck to the wearer. Besides, it is a feng shui material, to help the wearer always feel safe, convenient in life, improve health and eliminate toxicities. In other words, is a talisman, the purpose to dispel all evil, dark, neutralize bad luck around the wearer.
III. Agarwood Production Process