I. Buddha Indonesia 108 mala beads information:
Material: Agarwood + gold 9999
Country of Origin: Indonesia
Beads size: 6mm
Number of beads: 108 beads
Agarwood ages: 40-50 years sedimentary
Usage:
Female
+ Gifts for relatives, friends or colleagues, subordinates
+ Overcome 108 types of afflictions
+ Brings good luck,  peaceful for your mind, eliminates sorrows
II. Buddha Indonesia 108 mala beads description
1. About Buddha Indonesia 108 mala beads:
Each Buddha Indonesia 108 mala beads are the most high-class products in the Thien Moc Huong collection. Many artisans with their enthusiasm create these masterpieces. We made from high quality materials: Indo agarwood with 24K golden charm.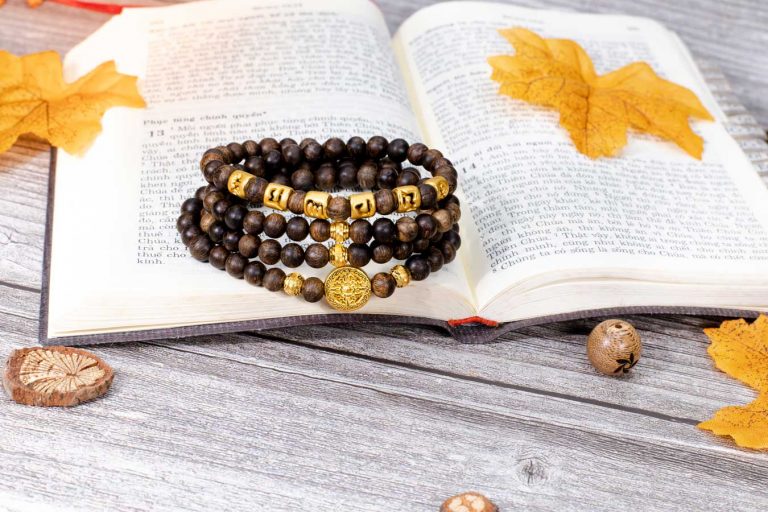 2. The meaning "Oriental Legal Concept":
Inspired from Japamala dharma, every detail has their own philosophy.
The image of the dharma wheel symbolizing feng shui in the mind. It is the escaping from 3 types of sorrows: Tham, San, Si. This wheel shows the Buddha's teachings – continuing development, movement. That brings human being from dark to light, from sadness to joy, from hell to nirvana,…
Om Mani Padme Hum mantra: This mantra is quite popular and it is also known as the "Six Great Words of Truth". That means "The clear and pure truth consists of six words". Om: Destiny; Mani: A gem; Padme: Inside the lotus; Hum: A self-accomplishment. The function of mantra helps people to eliminate negative things, go smoothly in your work,..
Meaning of 108 beads: The rosary of 108 beads, also known as Japamala. We use it to sweep away 108 types of afflictions. Human being overcomes their difficulties, worries to reach peaceful in minds.
BUY NOW, Buddha Indonessia 108 mala beads
4. The combination between Agarwood and the Dharma:
The Oriental Dharma Bracelet is an subtle jewelry. We have inspiration from Japamala dharma combined with the philosophy in Buddha's Dharma teachings. Moreover, we create bracelets from agarwood. A wood contains the spirits of heaven and earth and the details are designed from pure 24K gold.
The Oriental Dharma is not simply a peaceful piece of jewelry, but also directed to purity of mind and lucid wisdom. This is the ultimate jewelry masterpiece only for those who really have exquisite taste, elegance and good direction, not everyone wants to have it.
III. Agarwood process: