The product is made from Vietnam Toc Agarwood which is taken from the natural environment, not affected by human hands. In particular, agarwood originates from Ha Tinh forest, growing naturally, so the ring quality is much better than other fasteners on the market. With the characteristic dark brown color and deep, sharp veins, the product promises to bring high aesthetics and many great uses to the wearer.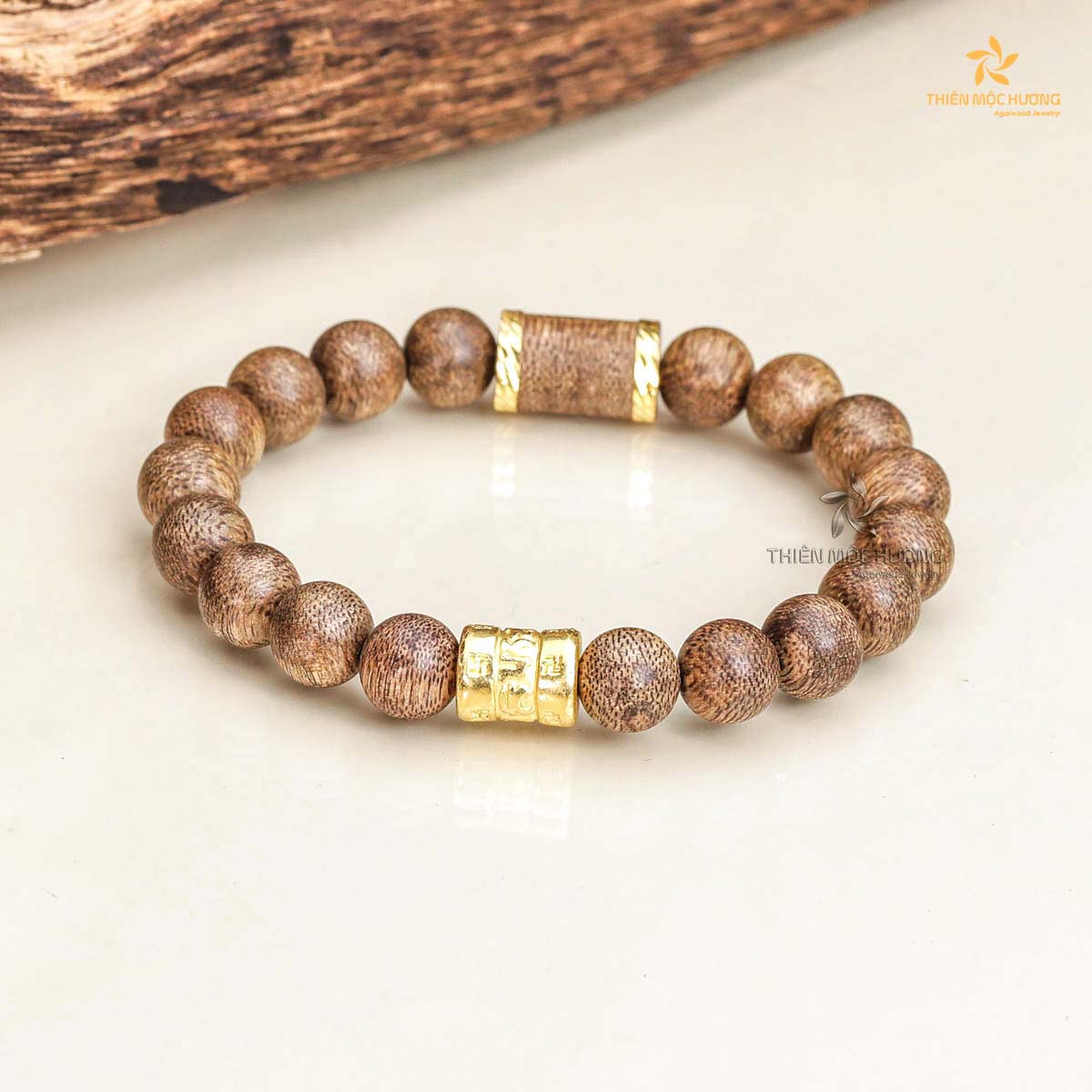 I. Information about Golden Tibetan Amulet Agarwood Bracelet
Material: Agarwood – Gold 9999
Country of Origin: Vietnamese Toc Agarwood
Number of seeds: 13-17 beads (10 mm)
Agarwood ages: 12 – 14 years
Usage:
+ Male/Female
+ Gifts for relatives, friends or colleagues
+ Brings good luck, helps mental comfort, reduces anxiety and stress
+ Meaningful presents toward Buddha, Business
II. Product description of Golden Tibetan Amulet Agarwood Bracelet
The agarwood bracelet usually consists of 13 to 17 sandalwood beads (can be adjusted according to the customer's preference). The number of beads is chosen based on the principle of the "birth – aging – illness – death" cycle to bring good luck to the wearer. It is recommended to choose a number of beads that is divisible by 4 with a remainder of 1. Accordingly, the last bead will fall under the category of "birth". The sandalwood bracelet emits a long-lasting fragrance, helping the wearer dispel fatigue, sadness, and alleviate stress, as well as soothing the sorrows of life.
The Tibetan Sandalwood Bracelet is a unique combination that harmoniously blends sandalwood with Tibetan charm leaves, carrying the special meaning of Buddhism – expanding compassionate consciousness, benevolence, and bringing abundant blessings to oneself while spreading positive energy to those around.
The package of the Thien Moc Huong Agarwood Bracelet includes:
1 natural sandalwood bracelet, a premium-quality box to celebrate TMH's 40th anniversary
An elegant member card of Thien Moc Huong
An instruction sheet for bracelet care to maximize its Feng Shui effects
In addition, the premium box also includes a set of spare beads and strings.
The strings and beads allow customers to easily replace them, either to expand or adjust the bracelet to the perfect fit. The Member card enables customers to enjoy a lifetime warranty for product maintenance (string replacement, bead polishing) at any Thiên Mộc Hương store free of charge.
III. The benefits of wearing the Golden Tibetan Amulet Agarwood Bracelet
As a Feng Shui bracelet, it brings a sense of tranquility and enhanced intelligence and emotional well-being in both work and life, especially for men. Wearing the bracelet on the left hand during important meetings, bidding sessions, and conferences helps the wearer turn bad luck into good luck and achieve favorable outcomes.
The charm leaves are made from special Feng Shui stones combined with the simplicity of sandalwood beads, adding a captivating and unique touch, especially for women. Wearing them on the wrist creates a sensation of a slender, delicate, and mystical bracelet.
As a Feng Shui bracelet, it brings a sense of tranquility and perfection in both external beauty and inner self, especially for women conscious of their appearance. Wearing the bracelet on the left hand is highly suitable for attending corporate parties, important meetings, and weddings.
III. The perfect combination of Agarwood and Tibetan Amulet Charm
Sandalwood emits a gentle fragrance, promoting a refreshed and relaxed spirit, dispelling all worries and exhaustion as if bringing a new source of fortunate energy to the wearer. The Tibetan charm bracelet provides a similar effect but with distinct symbolism. It is a Feng Shui item that instills a sense of safety, convenience in life, improves health, and eliminates harmful influences.
The artisans have skillfully and uniquely combined sandalwood and charm leaves. Thiên Mộc Hương believes that this is an extremely simple, refined, and luxurious piece of jewelry, as well as a source of good luck for the wearer.
The 24k gold charm leaves are designed to bring peace, dispel worries, and misfortunes. Combined with the 24k gold material, it brings prosperity.
IV. Production Process of making Agarwood Bracelet