Clover Leaf Agarwood beaded Bracelet is designed for both men and women, bringing luck, happiness and health to the wearer.
I. Information of Double Four-leaf agarwood beaded Bracelet with Silver S925
Material: 100% natural Agarwood Proper
Country of Origin: Laos
Number of seeds: 17 – 21 beads (depending on size)
Agarwood ages: 12 – 14 years sedimentary
Usage:
+ Gifts for relatives, friends or colleagues
+ Brings good luck, attracting fortune, connecting the love
+ Meaningful presents toward Buddha
II. Double Four-leaf agarwood beaded bracelet for couple
1. Research about the Four-leaf agarwood beaded bracelet
Four-leaf agarwood beaded bracelet for Female is the best seller at Thien Moc Huong, made from the same type of Agarwood which originated from Laos. This bracelet at Thien Moc Huong is made from Agarwood wood from 10 to 14 years of sedimentary origin from Laos, along with premium S925 silver.  Usually, bracelets have 17 to 21 beads (may vary depending on the wearer's arm size). Based on the rules of the cycle of "Birth – Ages – Disease – Death" that we select the number of beads divided by 4 remainders of 1 to bring fortune to the homeowners. Accordingly, the word "birth" is on the last beads.
Agarwood bracelets emit almost eternal fragrance, helping wearers dispel feelings of fatigue, melancholy, relieve stress as well as relieve sadness in life. In addition, the bracelet has the ability to prevent harmful winds from penetrating.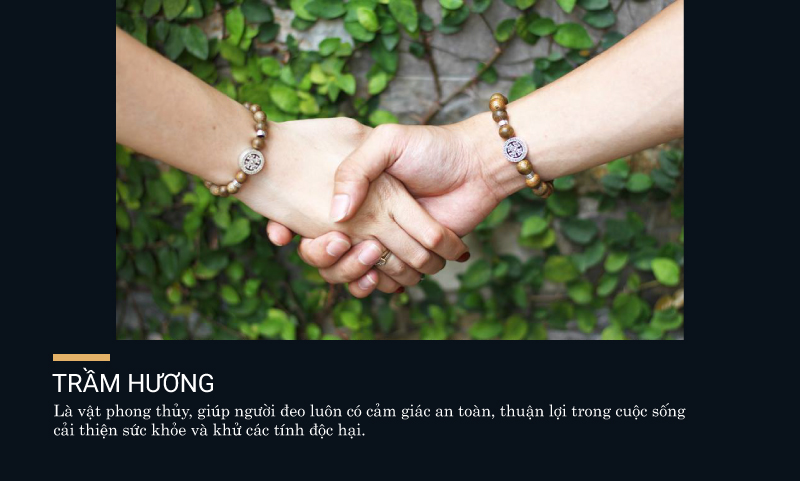 This agarwood beaded bracelet product belongs to Pandora Agarwood Collection hence it is the most preferable product for women at Thien Moc Huong store. Most notably, they used silver material to create a bracelet that has a compact design, precise but very aesthetic, charm bell. It has many very attractive uses that not all types of bracelets have.
2. Meaning of image Four-leaf
In other side, the 4-leaf in Four-leaf agarwood beaded bracelet symbolizes luck because encountering this leaf type is very rare. For every 100.00 clovers, just can find only one cloverleaf. 
3. Delicate and luxurious jewelry
People believe that the cloverleaf agarwood bracelet will bring luck, success, prosperity, for those who wear it. Wearing a clover bracelet during a date makes it easy for the wearer to take advantage of the opposite people.
Sliver combined with the simplicity of the Agarwood seeds are materials that Thien Moc Huong used to make the Cloverleaf. Thus, it enhances attractively and unique, especially for women. Wearing them on your hand will create a sense of slim, soft and extremely mysterious bracelet.
ORDER NOW a bracelet of Agarwood clover for yourself or as a gift for friends to meet the lucky things in life.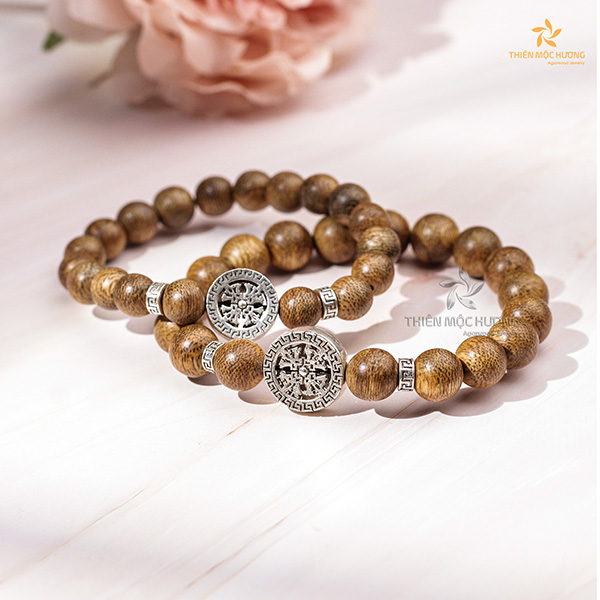 4. The wonderful combination of Agarwood beaded bracelet and Four-leaf
Agarwood has a gentle aroma, helps the spirit of refreshment, comfort, dispels all frustration, fatigue as if bringing a new source of lucky energy for the wearer. As a result, it is similar, but it has a very specific meaning. This type of bracelet is feng shui, making the wearer always feel safe, convenient in life, improve health and eliminate toxicities.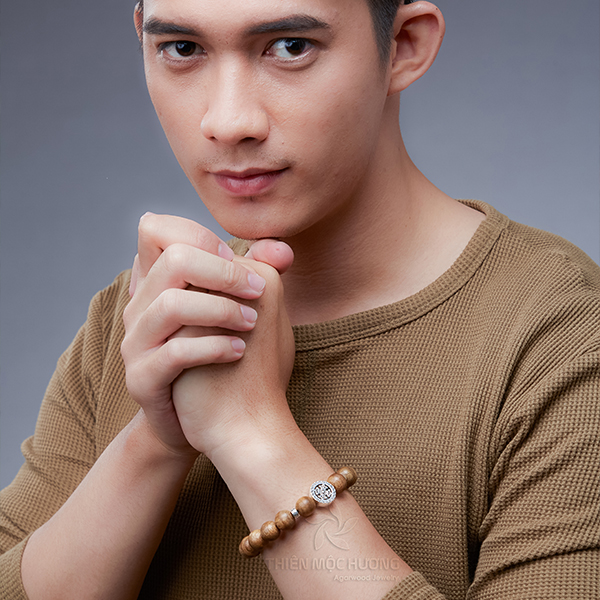 The artisans have combined Agarwood and the cloverleaf charm in a subtle and unique way. Thien Moc Huong believes that this is an extremely unique, simple, luxurious jewellery, and especially bringing good luck to the owner.
III. Production Process of Double Four-leaf agarwood beaded Bracelet with Silver S925