Symbol of prosperity, fortune and peace
Product information
Material

Agarwood 

Source

Philippines

Number of beads

17 beads (depending on the size of the wearer's hand)

Age

30 years

Use for

Women

This is a gifts for relatives, superiors or friends.

It bringing luck, fortune in the way of fame.

Meaningful gifts for Buddhists
Description
About Philippines Carp agarwood beaded bracelet
Philippines Carp agarwood beaded bracelet is made from Agarwood type of origin from Philippines. Normally, bracelets will be made into 17 beads (may vary depending on the size of the wearer's hand). The number of beads will be selected based on the rules of the cycle of "birth – old – disease – death" to bring luck. You should choose the number of beads divided by 4 remainder 1. Accordingly, the last bead will fall into the word "birth".
This is a product belonging to the collection of Agarwood bracelet for women, which is put into a lot of enthusiasm by the craftsmen of Thien Moc Huong. Made from PHILIPPINES AGARWOOD with 24K gold feng shui CHARM. Each design is a unique wish that Thien Moc Huong gives customers.
The meaning of "Carp agarwood beaded bracelet" 
Dragons are considered to be the animals of heaven. And it have the supreme ability, symbolizing auspicious signs, so Carp overcame the dragonification is a symbol of effort, luck and taking advantage of opportunities to succeed. . The Dragon Carp is the embodiment of perseverance and success.
In particular, it is believed that in the family when there are items representing the dragon carp, it will help all members achieve high results in study and examinations. Especially helps to promote quickly in the career as well as achieve luck and fortune in the business. 
Trendy Bracelets for Women
Ly Ngu Transforming Sinking Agarwood Bracelet is a delicate jewelry combined with feng shui philosophy. It made from 100% natural indonesia agarwood, a wood with the essence of heaven and earth, the details are finely and meticulously designed with pure 24K gold.
The bracelet carries in itself a modern design, leading the trend of jewelry fashion. Is the leading jewelry selected by the ladies to embellish their beauty. Moreover,  agarwood beads with a circular design creates a soothing feel when rubbing against the skin of your hands.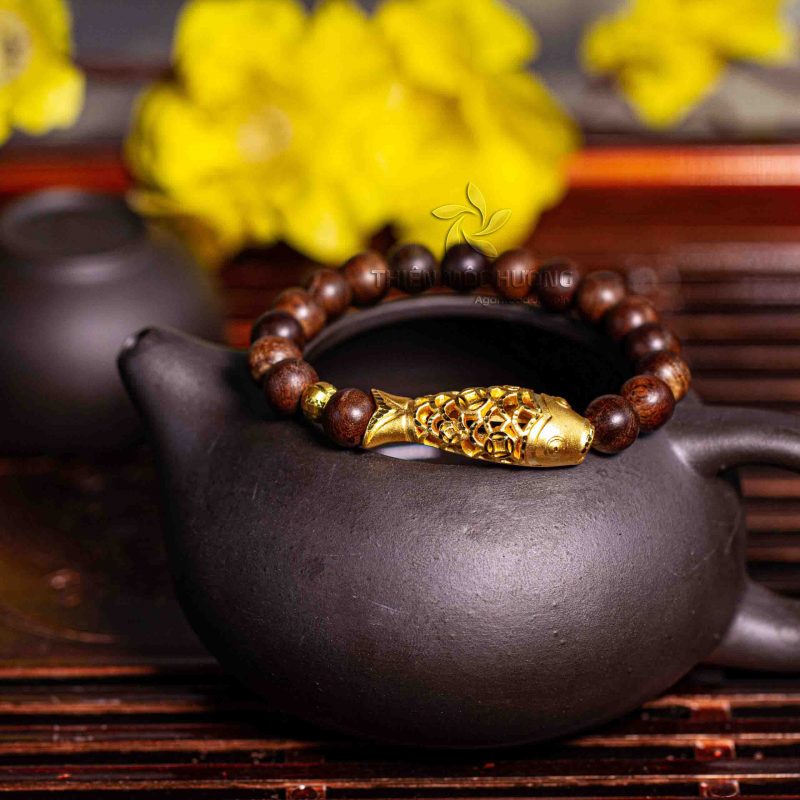 QUICKLY become the owner of this trendy bracelet TODAY
AGARWOOD PRODUCTION PROCESS