Bamboo agarwood bead bracelet with Lotus charm 24K gold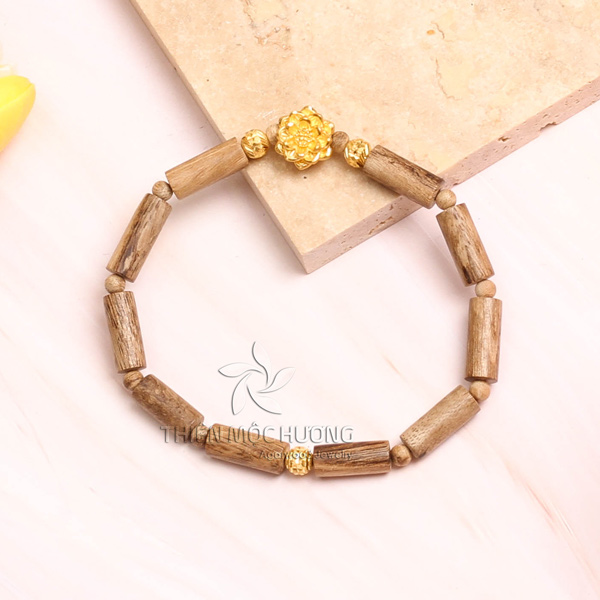 Product information
Material

Agarwood + Gold 24K

Source

Laos

Number of beads

9 cylinder 9 beads (depending on the size of the wearer's hand)

Age

12-14 years

Use for

Male, Female

This is a gift for relatives, superiors, or friends.

It brings luck, and fortune in the way of fame.

Meaningful gifts for Buddhists.
Bamboo agarwood bead bracelet with Lotus charm Description
24K Gold Lotus Charm: In the stinking mud, lotus still flourished and gave off a distinct aroma. Despite being fragile, it is strong and pure and it has a gentle, discreet aroma. The image of the lotus is a symbol of sacred spirituality, sincerity, and temptation. Its petals represent stability and persistence, beauty and freedom.
Meaning of Golden bamboo agarwood bracelet: Taking the image of a bamboo tree, any unrighteous, straight, firm symbolizes the solidness and resilience of people before many storms and storms. Truc is green all year round, as well as the health of people, subjected to dew and wind without spending anything, shaking or leaning.
Agarwood bracelets with the shape of bamboo burning, bring the wearer of positive energy, confidence, and determination to the end, promoting the increasingly successful and good trading business.
Agarwood is inherently a child of heaven and earth, full of spiritual energy that brings the owner luck in work, health, peace, and fortune. It is a Fengshui item for the owner when combined with the golden lotus brings peace, will, and luck in work and love
The combination of Golden Lotus and Agarwood is reflected in the strong determination to blend with the elegance of the lotus to create the sophistication and uniqueness of the design.