The 108 mala beads Indonesian submerged Agarwood Bracelet is made from Agarwood originating from Indonesia.
I. Information
Material Agarwood 100%
Country of Origin: Indonesia
Beads size: 6mm – 7mm – 8mm
Number of seeds:  108 beads
Agarwood ages: 40-50 years sedimentary
Usage:
+ Male
+ Gifts for relatives, friends or colleagues, subordinates
+ Brings good luck, is peaceful for your mind, eliminates sorrows
+ Meaningful gift for Buddhists
II. Product Description:
1. Learn about Indonesia's 108 mala beads:
In Indonesia 108 mala beads are made from Agarwood originated from Indonesia. The submerged Agarwood which has more than 40 years, accumulates more essential oils. Indonesian agarwood exists on some islands. Therefore, it has a darker color and is more glossy than other types.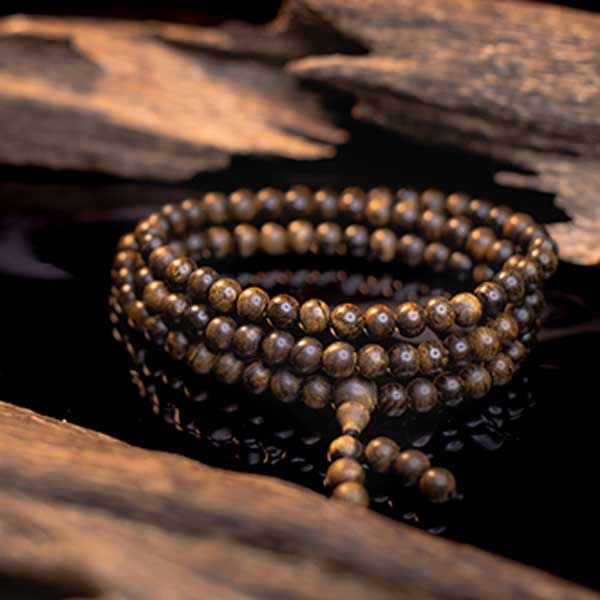 This bracelet has a gentle aroma that makes the wearer feel comfortable and relaxed. The bracelet symbolizes the image of spirituality in Buddhism. It is the representative of the witness of the Three Paths of Dharma to eliminate sorrows. With 108 beads, this will be a gift, meaningful jewelry for relatives and Buddhists.
2. Meaning of the number 108:
In Buddhism, the number 108 means full and depth. People are born with ears, eyes, noses, tongues, bodies, and consciousness. Eyes see the scenery, ears listen to sound. The nose smells scent, tongue knows sweet and sour tastes. Those emotions make your mind peaceful and worried. 108 emotions mixed from the past, present, and future.
3. Feng shui bracelets – peace for men:
Feng shui bracelets bring peace of mind, and mental intelligence for work and life, especially for men. Wearing a bracelet on the left hand in important meetings will help the wearer get many fortunes.
This agarwood beaded bracelet product belongs to 108 Mala Beads Collection hence it is the most preferable product for women at the Thien Moc Huong store. Most notably, they used silver material to create a bracelet that has a compact design, a precise but very aesthetic, charm bell. It has many very attractive uses that not all types of bracelets have.
BUY NOW for your,108-bead Indonesia agarwood submerged Bracelet which increases elegance and coolness.
4. Indonesia 108 mala beads are unique – distinct beauty:
Indonesia 108 mala beads are a combination of a rosary bringing peace and trend for the jewelry. Thanks to this agarwood bracelet, the wearer will keep their mind calm, and peaceful. The bracelet can also be combined with other charms, depending on your preference.
III. Manufacturing process