Owning a Golden Phuc Loc Tho bamboo agarwood beaded bracelet will bring luck in love, the wisdom in communication and behaviour in life, for business women or managers, helping them gain more self-confidence. Believe in your power.
Life is full, Happiness, Wealth and Longevity
Product information
Material

Toc banh + Gold 18K

Source

Laos

Number of beads

9 cylinder 9 beads (depending on the size of the wearer's hand)

Age

12-14 years

Use for

Male

This is a gifts for relatives, superiors or friends.

It bringing luck, fortune in the way of fame.

Meaningful gifts for Buddhists.
Phuc Loc Tho bamboo agarwood beaded bracelet Description
This agarwood beaded bracelet product belongs to Golden Heritage Collection hence it is the most preferable product for women at Thien Moc Huong store. Most notably, they used silver material to create a bracelet that has a compact design, precise but very aesthetic, charm bell. It has many very attractive uses that not all types of bracelets have.
About Golden Phuc Loc Tho bamboo agarwood beaded bracelet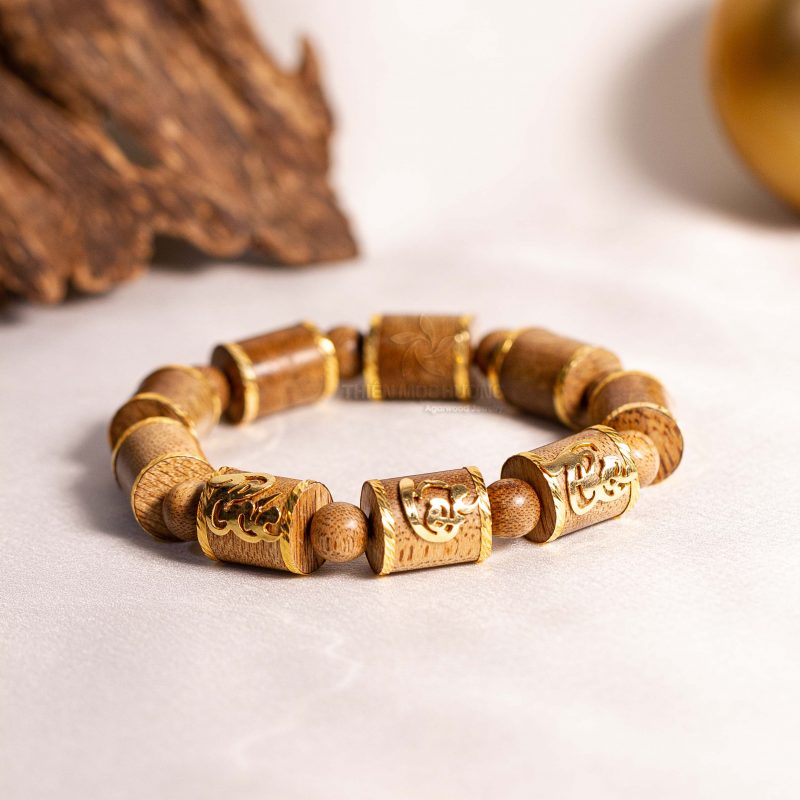 The special thing here is that agarwood beads not only have a simple and primitive appearance, but also round and simple, but agarwood beads are made into extremely sophisticated and luxurious cylinder. These cylindrical particles are covered with an extremely luxurious and class gold layer. The three words Phuc Loc Tho are coated with pure 18K Gold highlighted on the bracelet.
The meaning of image Phuc Loc Tho (Happiness, Wealth and Longevity)
The three gods Phuc, Loc and Tho symbolize the three nebula systems in the sky. Phuc god symbolizes Jupiter, is one of the 9 planets of the solar system, also known as Tue planet, governs the air, bringing joy and happiness to humans. Loc god is the sixth star in the Court of Osteopathy, specialized in learning and recognition. And Tho god is the star of Enlightenment in 28 constellations, is the Thuong Long Dong Phuong Cluster, bestowing human health, long life and no illness.
Phuc Loc Tho talks about three basic things of a full and fulfilling life that people always dream of: Good things, children, happiness (Phuc), prosperity, luck (Loc) and longevity (Tho). Without one of the three things, a person's life will not be complete and fulfilled.
Agarwood beaded bracelet – Trendy bracelet for men
Golden Phuc Loc Tho bamboo agarwood beaded bracelet with sophisticated design, gold-plated cylindrical beads exalted the strong, assertive. Delicate in each layer of gold. As feng shui bracelets, when you worn, they will bring peace of mind, mental intelligence about work and life, especially for men. Wearing a bracelet on the left hand in important meetings, auctions, and conferences will help homeowners get the chance and good luck.
Uses combination of agarwood and the image of Phuc Loc Tho
Natural Agarwood through the years absorbing the spirit of heaven and earth will be a lucky charm for the wearer. Agarwood emits a fragrance which contains substances that help relieve stress, reduce heavy stress and stress for the wearer. From there, help wearers always lucid, calm, no longer impatient. Relationships in life as well as personal feelings are more harmonious, fun and happy.
Agarwood is also a feng shui wrestler, making the wearer always feel safe, convenient in life, improve health and eliminate toxic properties, dispel all evil, dark, neutralize the omen Bad around the wearer.
Agarwood Bracelet naturally touches Phuc – Loc – Tho gold with a great value of helping the wearer lead to a fuller, more complete and full life. All letters and the cylinder are 18k real gold, creating a classy, ​​prominent and noble design for the wearer.