Product Description
Golden Pixiu Single Round Agarwood Bracelet not only attracts fortune but also keeps happiness and wealth.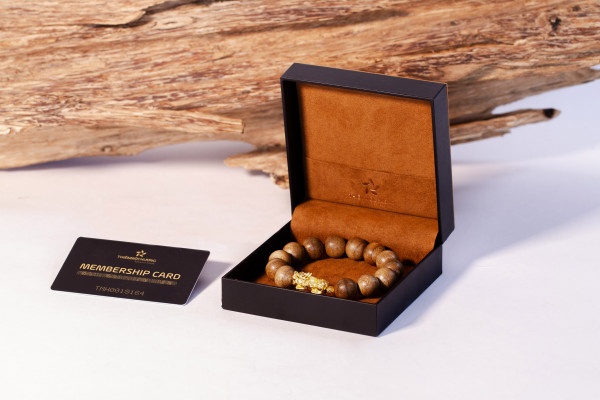 I. Pixiu agarwood beaded bracelet Information:
Material: Agarwood
Country of Origin: Laos
Beads size: 8mm-10mm-12mm-14mm-16mm
Number of beads: 13-21 beads
Agarwood ages: 12-14 years sedimentary
Usage:
Male
+ Gifts for relatives, friends or colleagues, subordinates
+ Brings good luck,  peaceful for your mind, eliminates sorrows
+ Be fashion accessories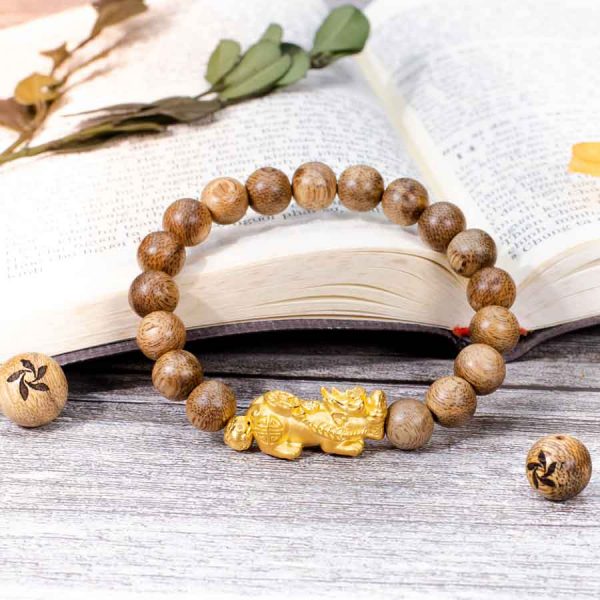 II. Pixiu agarwood beaded bracelet Description:
1. General discovery of product:
Be made from the agarwood of Laos. Regularly, bracelets will be from 17 to 21 beads (may alter depending on the size of the wearer's hand). The number of seeds will be selected based on the rules of the cycle of "birth – old – disease – death" to bring good luck to the homeowners. Should choose the number of seeds divided by 4 remainders 1 or 2. Accordingly, the last particle will fall into the word "birth" or 'old'. The Pixiu charm is made from 9999 Gold which enhances the high value for the bracelet and the wearer.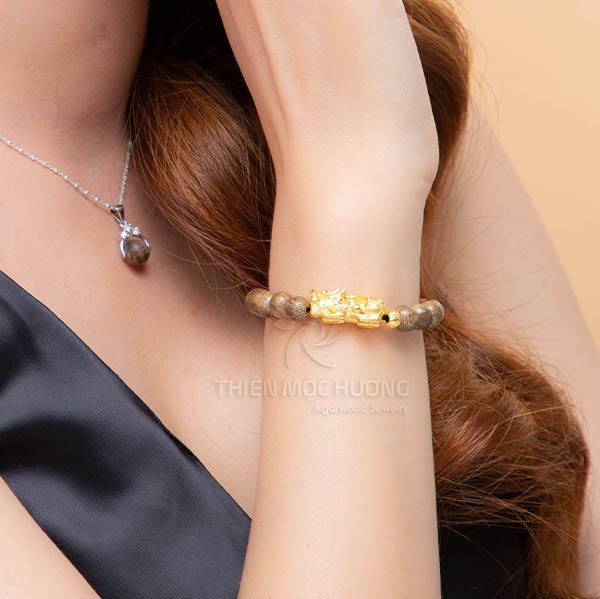 2. The meaning of Pixiu's image:
It can be seen that Pixiu is the mascot that neutralizes the colossal elements of killing – the kind of killing that is unbeneficial to health and fortune. If you own a Pixiu on your side, you can be assured of the spiritual value that it brings. Pixiu liked to eat gold and silver but did not have an anus, so he ate only without releasing. Because of that, it has a very good effect on both attracting fortune and keeping lucky. Additionally, Pixiu has a brave spirit, specializes in biting the blood of the devil, so they dare not come close. Therefore, carrying on your side will have a destiny effect, exorcise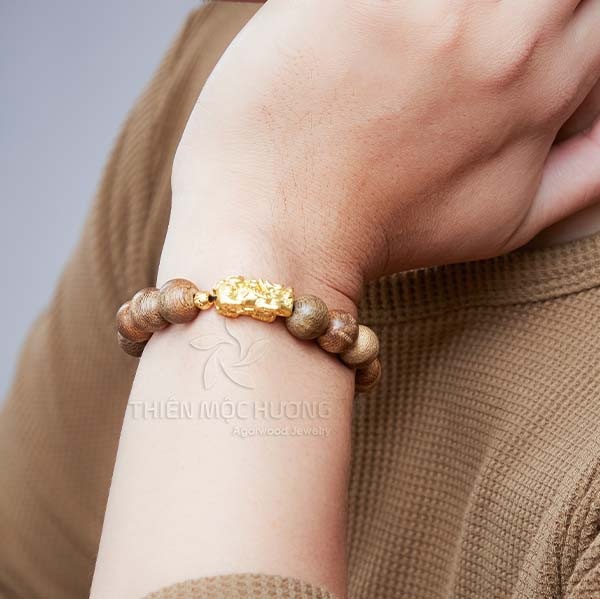 3. A trendy bracelet for males:
As a feng shui bracelet, the Agarwood bracelet will bring peace of mind, mental intelligence for work and life, especially for men. Wearing a bracelet on the left hand in important meetings, biddings, conferences will help homeowners get a huge number of opportunities and good luck.
BUY NOW a single round agarwood bracelet with Golden Pixiu for advancement and good luck in your life.
4. The perfect combination between Agarwood bracelet and Golden Pixiu
Be a treasure formed by a unique crystalline substance from Agarwood which represents the spirit of heaven and earth. the Golden Pixiu protects the wealth and brings luck and happiness. The Spirit of Agarwood not only carries the quintessence of heaven and earth but also enhances the transmission of spiritual energy to awaken Pixiu and make him stronger to clear superior luck and expel evil
III. AGARWOOD PRODUCTION PROCESS