Double round pixiu agarwood beaded bracelet –

Bringing wealth and prosperity
Product information
Material

Agarwood + 24k Gold

Country of Origin

Laos

Number of beads

54 beads

(

See the manual size measurement

)

Agarwood ages:

10 – 14

years sedimentary

Usage:

Female

Gifts for relatives, friends or colleagues, subordinates

Fashion accessories

Brings good luck,  peaceful for your mind, eliminates sorrows
Double round pixiu agarwood beaded bracelet Description:
1. General discovery of product:
Double round pixiu agarwood beaded bracelet is made from the agarwood of Laos. Regurlarly, bracelets will be made into 54 beads (may alter depending on the size of the wearer's hand). The number of seeds will be selected based on the rules of the cycle of "birth – old – disease – death" to bring good luck to the homeowners. Should choose the number of seeds divided by 4 remainders 1. Accordingly, the last particle will fall into the word "birth".
This is a product of the most popular collection of Agarwood bracelet in Thien Moc Huong.
2. The meaning of Pixiu's image:
People said that Pixiu is the mascot that neutralizes the colossal elements of killing – the kind of killing that is unbeneficial to health and fortune. If you own a Pixiu on your side, you can be assured of the spiritual value that it brings. Pixiu liked to eat gold and silver but did not have an anus, so he ate only without releasing. Because of that, it has a very good effect on both attracting fortune and keeping lucky.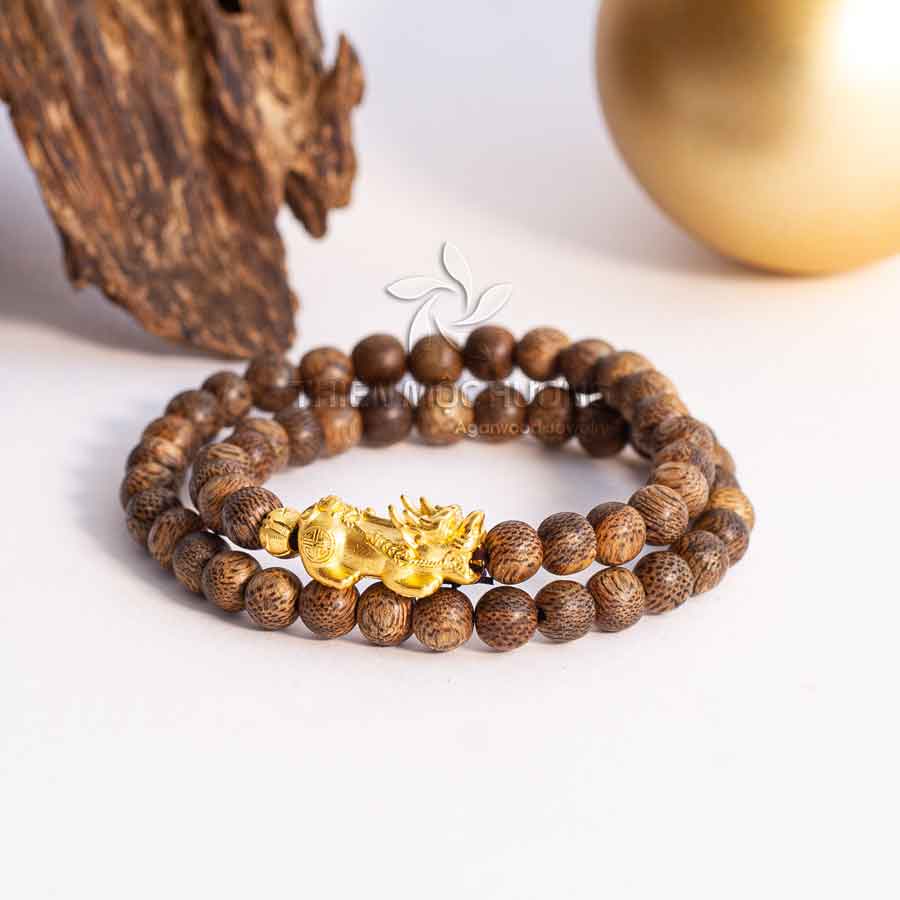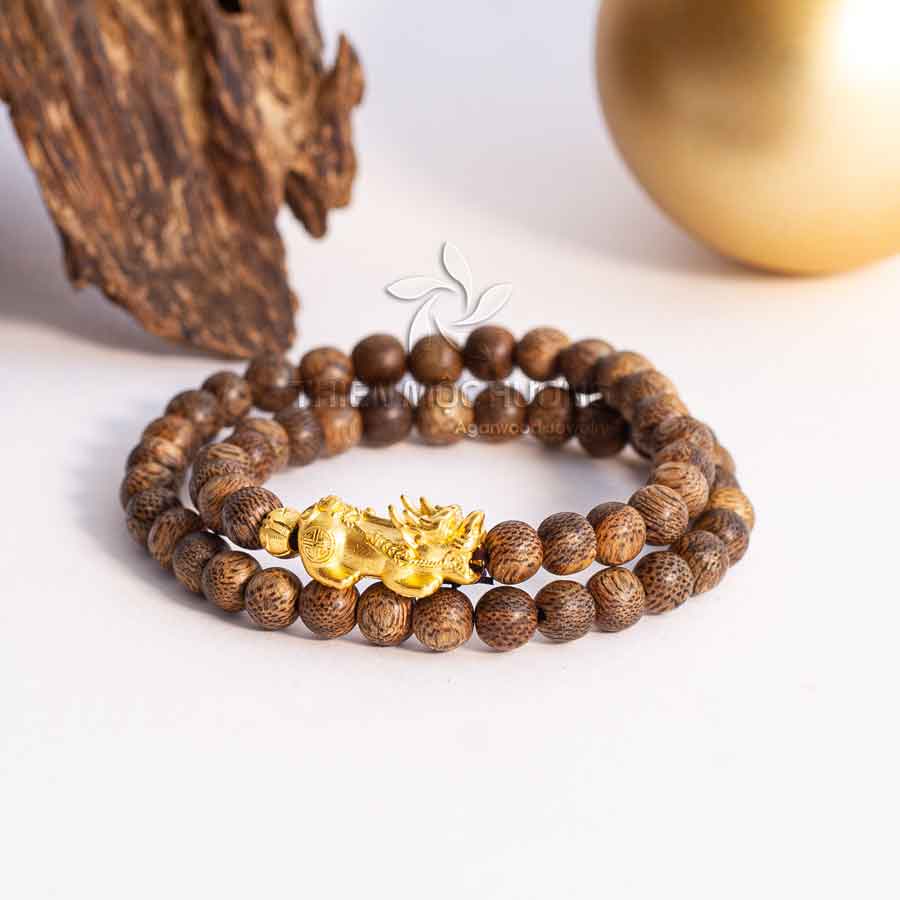 Additionally, Pixiu has a brave spirit, specializes in biting the blood of the devil, so they dare not come close. Therefore, carrying on your side will have a destiny effect, exorcise It can be seen that gold is one of the feng shui items used most in business and life. The image of golden marbles represents wealth and fortune. Gold marbles in feng shui have a biological effect, bring wealth, attract fortune constantly into the house.
3. An exquisite elegance bracelet for modern women
As a feng shui bracelet, the Agarwood bracelet will bring peace of mind, mental intelligence for work and life. The glamorous beauty of women is not only expressed through beauty, but also in independence, confidence and power. Golden Pixiu Double Round Agarwood Bracelet, honoring the highest values ​​of women.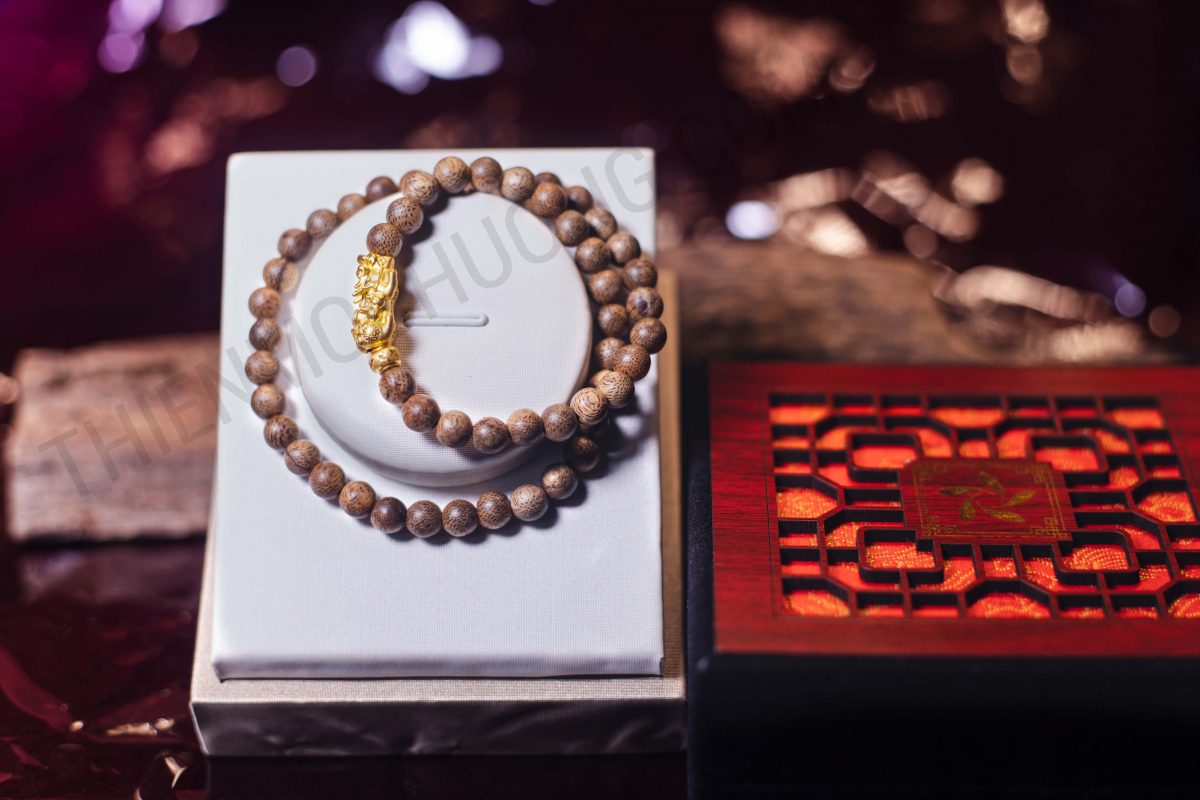 Double round Bracelet brings for you to get the ultimate simplicity but extremely delicate when being combined with the charm of the Golden Pixiu. This sample is extremely suitable for women, especially those who pursue minimalism, classic but full of aesthetics.
BUY NOW a double round agarwood bracelet with Golden Pixiu for advancement and good luck in your life.
4. The perfect combination between Agarwood bracelet and Golden Pixiu
The symbol of Pixiu is designed flexibly and elaborately with pure 24K gold, creating a unique, strong and powerful Pixiu figure. With the feng shui spirit flowing inside, when combined with Agarwood will double the power of feng shui. This bracelet will bring prosperity, luck and the ultimate jewelry masterpiece for those who have luxury and sophisticated taste.
Some informations about Agarwood
Source
Agarwood is used to make Silver Circle Ty Huu mainly from Laos with a reasonable price, beautiful oil and cosy fragrance. Agarwood from Laos has the value of rare and high-class, giving customers a wonderful experience from scent to finished products.
Size of 10-14 years
Commit 100% of natural Agarwood products, with 10-14 years of sediment accumulation, no impregnated chemicals, quality assurance, detect fake alcohols 100% of the product value.
Placement of essential oil
The higher the age of Agarwood is, the more clear is Van Tram, the more oil content is contained in Agarwood. The essential oil helps to relax and especially sleeps better with incense.
Fragrance
The value of Tram Huong increases with the time of possession, the more it is worn, the more beautiful it is. The gentle aroma brings a sense of relaxation, comfort, and calm. Tram from Laos puts on a softness, serenity and a sweet taste that anyone will feel refreshed to use.
AGARWOOD PRODUCTION PROCESS