Not only is a mala beads necklace an accessory, but it also represents a thing for belief in spirituality. The Asian nations use it so much. Because they have a total Buddha or many different religions. The monk and Buddhist especially use it when performing Buddhist rituals. If you are an atheist or of another religion, you can still wear a mala beads necklace. Mala beads. The meaning of this necklace is also really special. Your Guardian and ancestors will protect you from evil and negative power. The tassel symbolises eternity and points towards you when you begin meditating with the Mala beads. Alternatively, the tassel can symbolise a lotus blossom, which is a symbol of enlightenment. At Monk Mala we offer a choice of colors for different meanings. What is the meaning of a mala beads necklace? This content below will make it clear for you about that. 
I. Does a mala beads necklace always have 108 beads?
There are about four types of mala beads which are made into 108 guru beads: 27 beads, 54 beads or any multiple of 9. Nine is a number that has a special meaning in Yoga. Anh why is 108 beads but not the other number?
Following Buddhism, 108 represents the number of desires of mankind that people have to overcome to achieve Nirvana. So people usually use 108 in any items which are related to Buddhism or attrition. The meditation tool is made from mala beads. By this purpose, the Buddhist or none can read the mantras 108 times and stay on track. In addition, there are 108 beads because it is hard to count and  stay on track, there are 8 extra beads to allow for any mantras that may have been missed.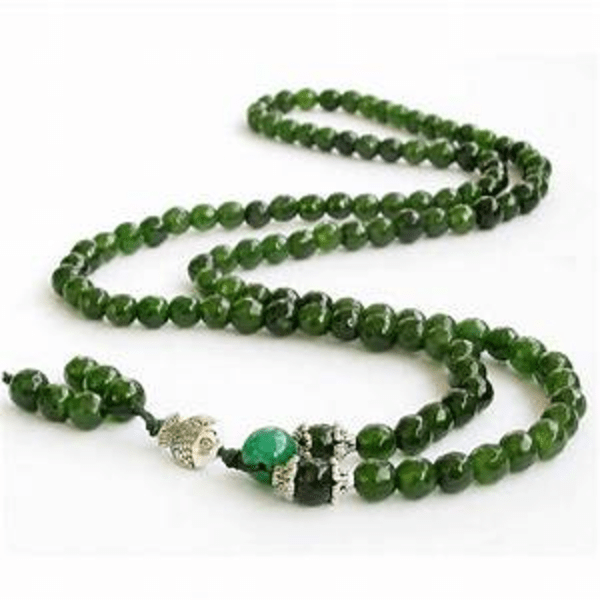 More than that, 1 bead stands for God, 0 stands for emptiness and humility in spirituality, 8 stands for infinity and timelessness. The combination of these three numbers help your dream come true. Moreover, it is a number that represents repentance for the mistakes you have made. In your past and present, you often do not notice or can remember all those sins.
The short guide to the elements of mala beads necklace help you a lot in the perception of spirituality. From the meaning of 108 beads to the details of how the mala is made of. This could help you so much and be good for your own personal journey.
II. The tassel on mala beads necklace 
Mala beads necklace are usually finished with tassels, often made of silk or cotton. The tassel is a symbol of connection to spirit or your truth in spirituality.  Moreover, the tassels represent the blossom flower. Not only are the tassels meaningful and beautiful, they also have a secondary purpose of diffusing your essential oils. 
Diffusing favourite essential oil on the tassel brings for you a lot of Peace and Calm. Mala beads necklace help release anxiety and stress. Moreover, it also helps decrease dramatically overactive mind. If you are a sensitive person who easily absorbs the negative energy of other people, you should have one to eliminate these bad energies.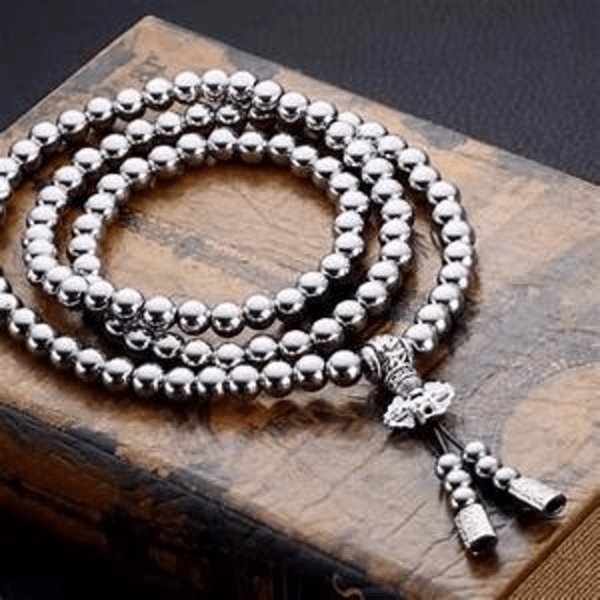 Mala beads can be made without the tassel. You can make a simple style which does not have gurus beads. In addition, you can change a tassel into a charm instead. The design of the mala beads necklace is nearly up to you. Mala beads necklace are usually  finished with a tassel, often made of silk or cotton. The tassel is a symbol of connection to spirit, or your highest truth. If you want to have a mala necklace made for you and set with your intentions as we make it, we can create the mala kits for you. Any type of mala beads bracelet is all finished. 
III. The use of mala beads necklace
There are a lot of variations of malas like pocket malas or mala beads necklace A high quality mala beads bracelet will have knots hand-tied between each bead. Why it has knot? Knots help your finger to move easily between the beads. Especially during the time of meditation. If you have a lot of time to meditate, this is actually an effective way to concentrate on this action. Moreover, this bracelet will protect you from the evil energy and negative thoughts out of your mind. This is a good way to release bad energy. Your mind and soul will become more and more pure.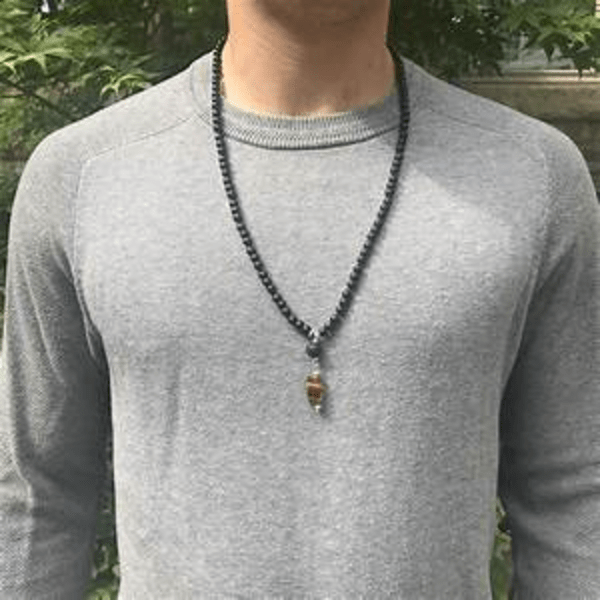 They create for you having space for protecting the stones from rubbing against each other. If your mala beads ever break, you will not lose all your beads. You can restrict them. Moreover, you can use them as a bracelet by wrapping it in 2 to 3 layers depending on your preference and bracelet size. The use of this bracelet is no different than when you wear a necklace. It's all equally good.
In addition, The guru beads are made of many different types of materials. There are a lot of Feng Shui stones to make into this mala beads necklace. You can choose your favourite mala beads which represent your intention or things that you connected with in the past. For example: if you have Rose Quartz Mala (love and self-love). Oftentimes self-love meanings speaking up for yourself. Moreover, this is also the way that you can express your love or what you need. 
IV. How to use mala beads for meditation?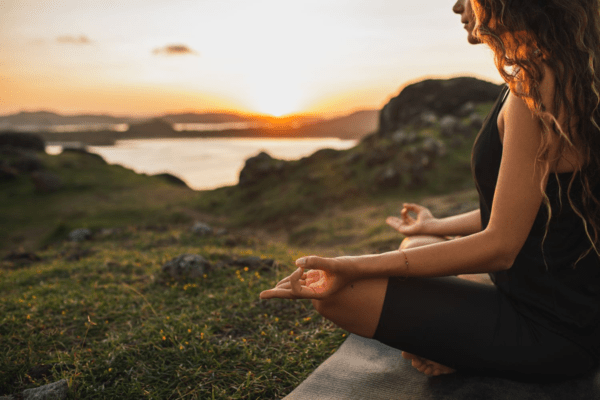 1. Choose your own mala beads followed your preferences
There are many criteria for you to choose to buy something for yourself. 
Does it extension it would feel good to touch

Is it beautiful to me?

Is it made out of a stone of seed which has special meaning to me?
Mala beads necklace have a variety of styles and colors. The materials to create it can be made from seed, agarwood, Feng Shui stone, precious stones,…It is important to choose mala beads that are suitable for you. There is no definition of right or wrong in choosing beads that feel good for you. Look at Buddhist mala beads necklace, you can see those standards.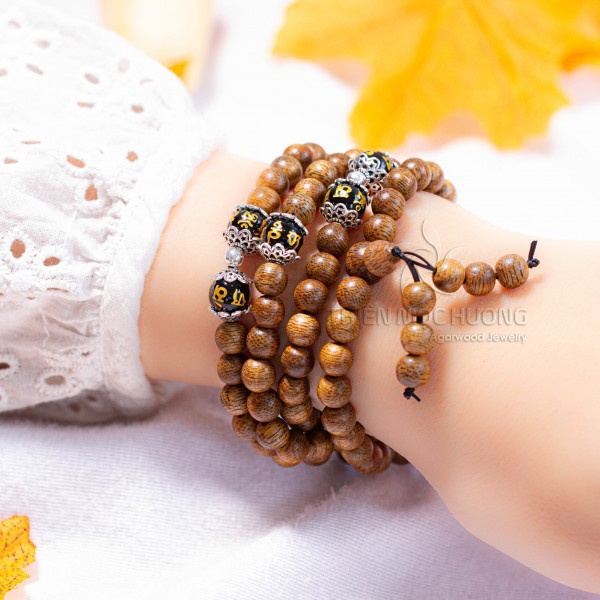 You can see and check out this beads at here: Tibetan 108 mala beads 
2. Use it during matras:
Often this job is pedagogical or pedagogical work. However, you can also automatically note your round by following the instructions below.
First step: Purification

Before it is your own, your necklace has passed through many hands. So  this is the reason why you need to disinfect it to a clean state before absorb new energy

Next, you need to take a clean towel and dip it in five-spice water or salt water, or white wine mixed with ginger, and then wipe the ring clean. Then wipe again with a dry towel

Step two: take a shower to keep your body clean and wear a polite ao dai. Your mind should not think at this time. Then you sit in a fresh place or in front of the ancestor altar for Buddha altra. All is good. During this time, you should burn incense to purify the atmosphere.

Step three: You can choose any mantra you want. For example: Medicine Buddha, Avalokitesvara, Amitabha Buddha, etc.

Finally, you put on the mala beads necklace and read the mantras out loud.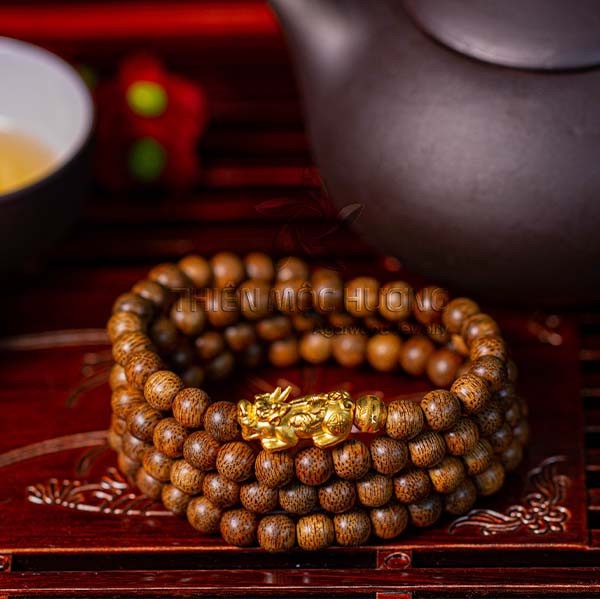 If you interested in this 108 beads, please check out at: Pixiu 108 beads agarwood bracelet with 24k gold
3. Pulling every beads toward as you recite your mantra
The Buddhist and normal people who follow the Buddha usually use mala beads necklace for praying and reading mantras 108 times. The mala beads necklace  is a representation of the Bodhisattva Avalokitesvara, and the pearl is a representation of the Buddha of Infinite Life, or the Buddhahood of the complete completion of the matter. When the rosary beads, starting from the mother beads (large beads of the gourd head string), each Buddha name or each variable (mantra) turns through a bead, until finally touching the beads must be turned upside down. times, do not pass.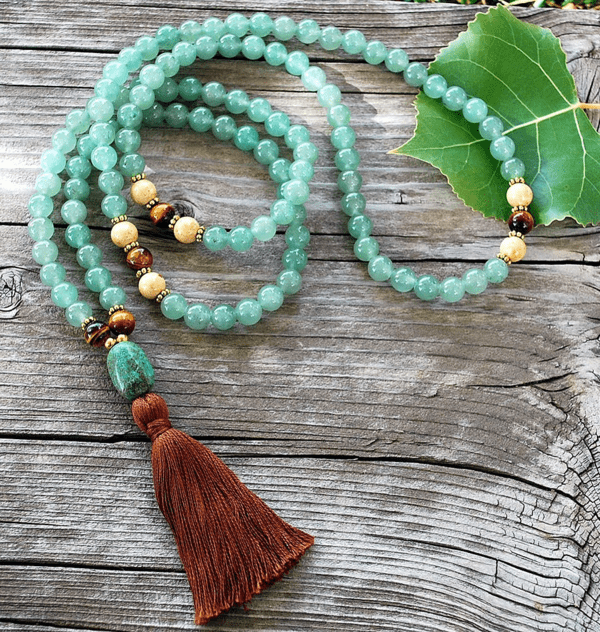 On the other hand, you can wear this necklace by wrapping it around your wrist or neck. When wearing, raise the wrist and place the gourd (the largest bead, where there are 2 tassels) in the middle of the wrist, then wrap each loop in succession until the end of the ring.
V. Where can you buy this necklace?
The mala beads bracelet 108-beaded Agarwood  is a string of beads originating from India and associated with Indian beliefs, used for chanting, reciting mantras, marking the repetition of prayers, with bold Buddhist meanings.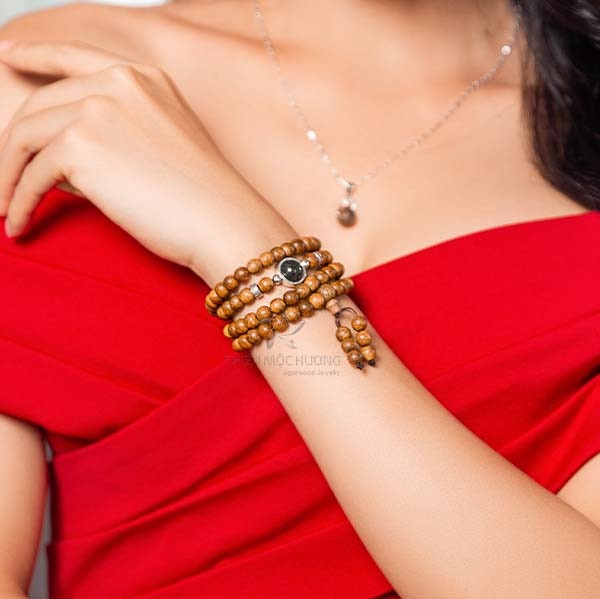 There are a variety of mala bracelets in the market now. So you need to check out and choose a suitable one for yourself or giving. A beautiful bracelet is one which is suitable with you. More wearing this beads more enhancing elegance for you. 
In conclusion, Remember that the most important thing when wearing mala beads necklace is comfort. The purpose of mala is to help you with whatever you set forth intentions for it. How to wear mala beads on your wrist? With the content above, we think that you can choose one which is suitable for yourself.  A Mala beads necklace has many benefits as the article mentioned above. Hopefully through this article you can choose for yourself a type of ring that suits your purposes and preferences.
If you want to know more about mala beads necklace, you can see at: How to make your own mala beads bracelet
(0)
Chia sẻ bài viết