Nowadays, mala bracelets are popular in Asia. Wearing this thread brings us a lot of uses. It means your life always takes place peacefully and fortunately. However, there are also a lot of interesting explanations for whether this right or wrong opinion is still out of the question. So what is this? How many beads are in a mala bracelet?  This content helps you make out clearer.
I. How many beads are in a mala bracelet?
The meaning of mala bracelet is divided into 3 parts: according to the concept of Feng Shui, Buddhism and Catholic
There are 4 types of guru beads in a mala bracelet
1. Bracelet has 17 to 21 beads
Based on the rules of the cycle of "birth – old – disease – death", we then select the total number of seeds to bring good luck to the homeowners. Should choose the number of seeds divided by 4 remainder 1. Accordingly, the last particle will fall into the word "birth". Agarwood bracelets have an almost eternal fragrance, helping wearers dispel feelings of fatigue, melancholy, relieve stress as well as relieve sadness in life.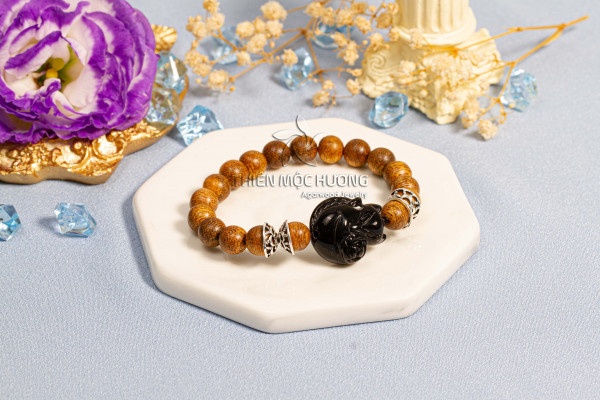 2. Bracelet has 54 beads
It is as the same meaning as 21 beads but different in the way we wrap on wrist. 54 beads will have double bracelet. Depending on the size of your wrist and the life cycle, it has from 49 to 54 beads for each bracelet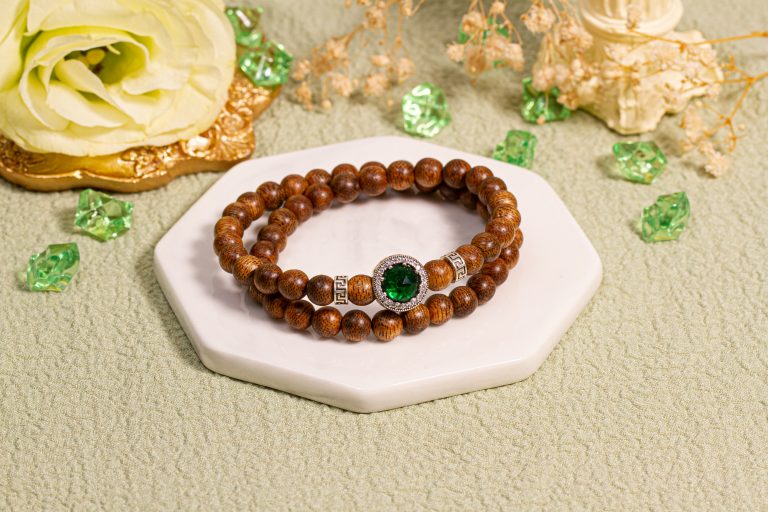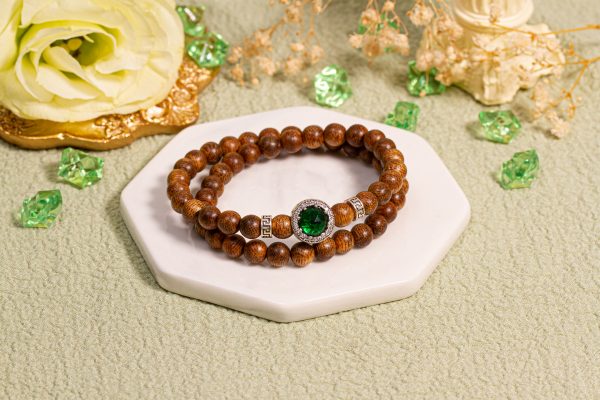 3. The 108 beads mala
Beside, there are 108 beads in length which are convenient for chanting. You do not need to remember how many times you have been numbered over. The more time you wear this bracelet, the more beautiful it becomes. Because of the shiny mala bracelet. This is a good present for your relatives, especially if your mother or sister liked it. It is very suitable for women.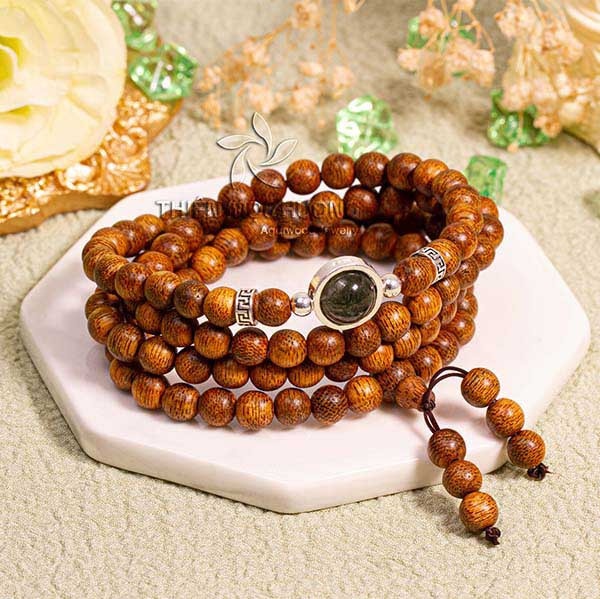 4. Bracelet has 216 beads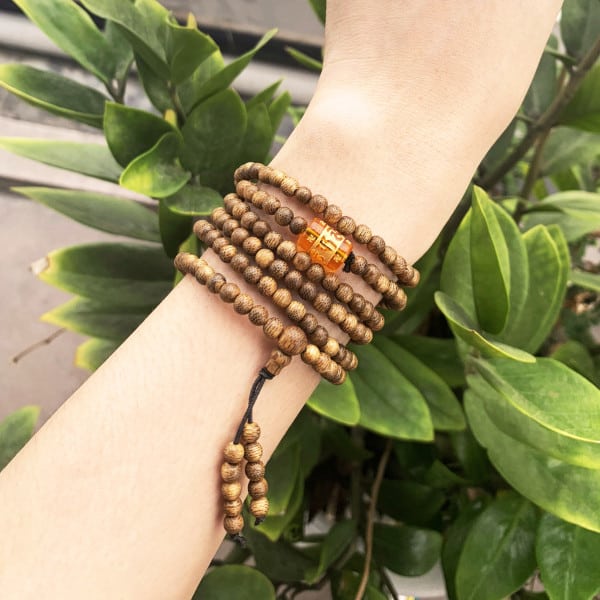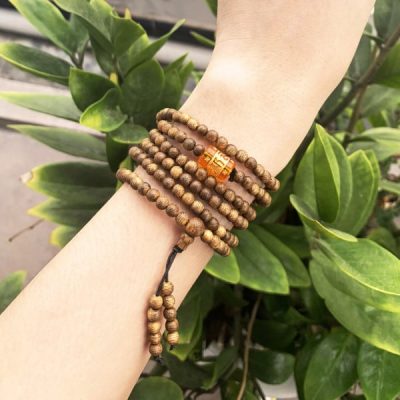 II. The origin and meaning of the mala bracelet
According to the concept of Buddha Giaso, the meaning of the bracelet will be calculated according to the number of beads on the ring, just count the number of beads and do not calculate anything else. Each number of beads represents a different meaning
A mala bracelet has 108 beads which means to testify for 108 Dharma Samadhi. People who are wearing this bracelet can get rid of 108 afflictions that I have created in 3 lifetimes. On the other hand, the 21-bead bracelet represents 21 different stages: Five Roots, Five Powers, Seven Bodhi and Five Buddha Wisdom. The 21-bead bracelet is quite easy to wear
If you are wondering how many beads of a bracelet is the best, the answer normally is 16 beads or 21 beads. In addition, 108 beads in a bracelet are popular nowadays for praying. 
If you want to make your own mala beads, here are steps for you How to make mala bracelet
III. Usage of mala bracelet
Healing Properties is one of the benefits of mala bracelets. It helps you to eliminate negative thoughts from your mind. Beside that, whether you are chanting out loud, whispering, or repeating a phrase silently, tracing the beads of the mala with your fingers can help you keep track of the japa. 
Mala bracelets bring luck for business or real estate environments, main banks, consultants… Beside that, it also helps increase the power of mental strength to overcome all difficulties and challenges. Moreover, not only are this one an accessory, they also a stuff for seated meditation. On the other hand, it is used as decorations, jewelry. Buddhist is always use it for the energy resonance they feel with the beads. These bracelets help them recharge full of energy. There are some advantages of this bracelet
Known as a protective stone, the best exorcism in Feng Shui

Symbolizes luck and wealth

Regulate and keep balance for the body

Support meditation to bring calmness and peace

 Good for health: About blood, heart, liver and stomach related diseases

On the other hand, mala beads are the symbol of health and prosperity. 
IV. Where can you buy a mala bracelet? 
If you do not know where to buy a good mala bracelet for yourself, you need to visit Thien Moc Huong' store. We have a lot of experience and knowledge about frankincense and how many beads are in a mala bracelet, so we will advise you on a good and suitable mala bracelet . 
In 2018, Thien Moc Huong was honored to become a Platinum sponsor of the Ship Southeast Asian – Japan Youth Program (SSEAYP). Chosen as a gift to represent Vietnam for more than 10 heads of state. and more than 30 heads of international exchange delegations in different countries.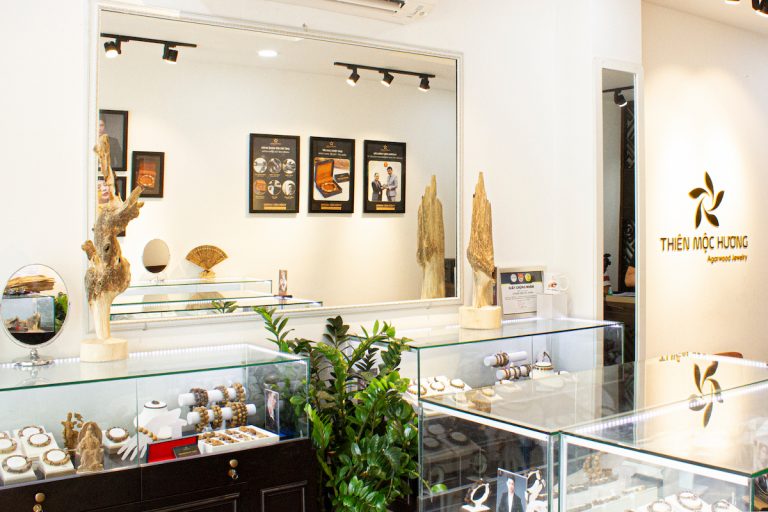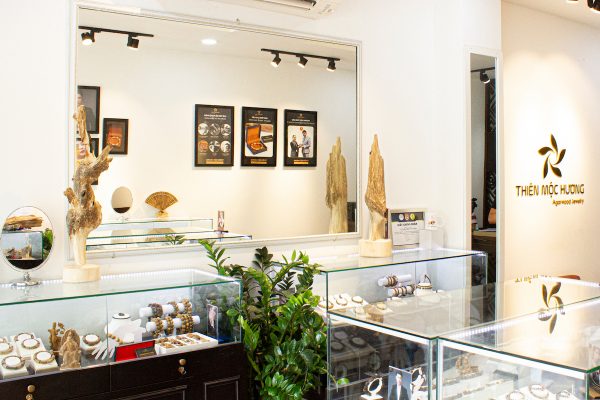 With more than 40 years in making Feng Shui items for all regions of the country. And become the world's leading supplier and manufacturer of Feng Shui jewelry. More than 80,000 customers, in more than 20 different countries around the globe. thousands of favourite reviews across the national and international community.
V. Some mala bracelet at Thien Moc Huong store
There are a variety of mala bracelets in the market now. So you need to check out and choose a suitable one for yourself or giving. We recommend 5 related ones for you below
1.Laos 108 mala beads bracelet- classic
This bracelet eliminates sorrow, soothes and negative energy out of your mind. More than that, you can feel peaceful when wearing it.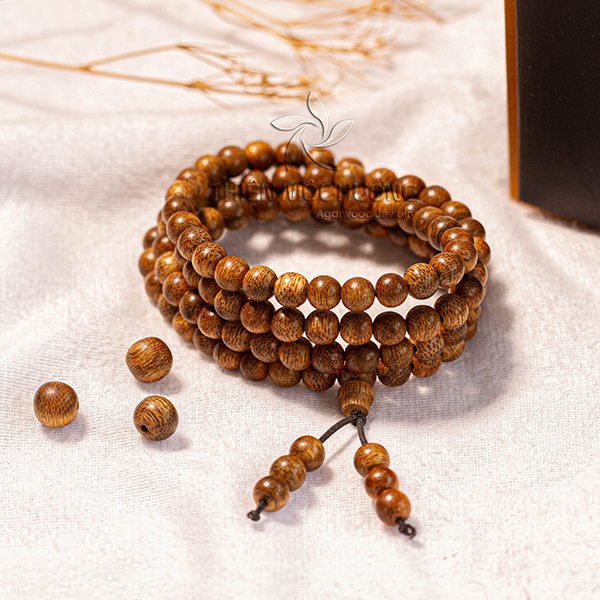 Buy this best seller bracelet at: Laos 108 agarwood bracelet
2. Guardian Buddha agarwood beaded bracelet- classic
Guardian Buddha agarwood beaded bracelet ensures your energy is always positive. This is a good choice for those who like simple. The extension is really beautiful. This bracelet has a Buddha charm. It seems to remind you need to live morally.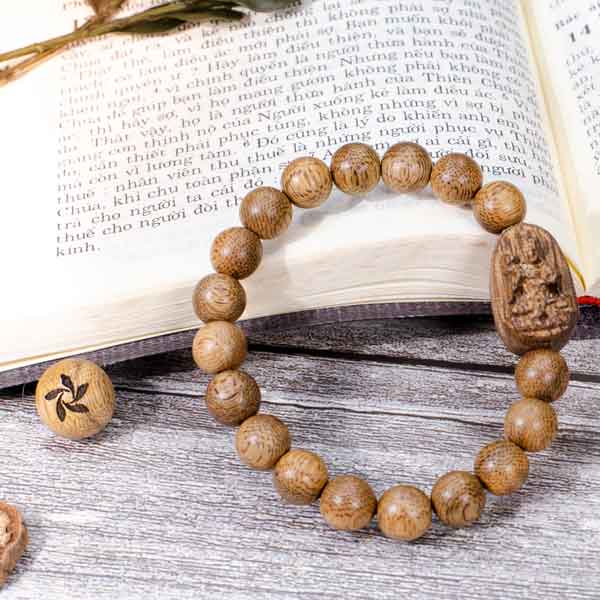 Find your own at: Guardian Buddha agarwood mala beads
3. Jade lotus 108 mala beads bracelet:
Jade lotus 108 mala beads bracelet wash the sorrow and negative thinking away from your mind. Besides, your prosperity will increase dramatically. It is always a reminder to warn you need to focus on your mental health and morality.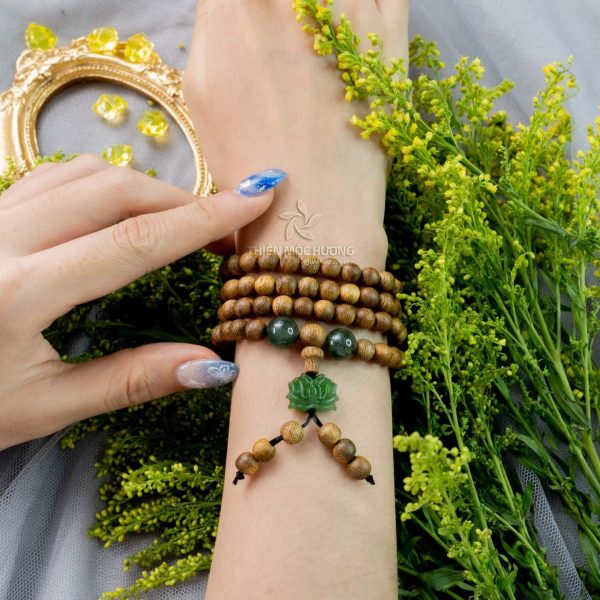 More information of this bracelet is here: Jade lotus 108 agarwood beads bracelet
4. Agar Moon 108 beads mala- classic
Agar Moon 108 beads has one red Feng Shui stone. This is the point of the string bracelet. It can eliminate negativity for the mind to be calm and lucky. Dispel bad and negative energy.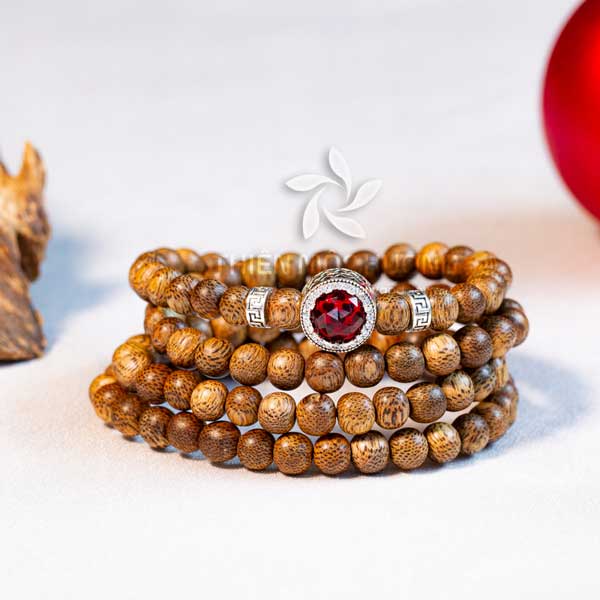 Own this fabulous bracelet at : 108 beads mala bracelet with agarmoon charm
5. 108 beads starlight mala beads bracelet- classic
This one has the point is a pink Feng Shui stone. The 108 beads starlight mala beads are a shining star in the blue sky. Wearing this bracelet, your skin will be brighter than usual.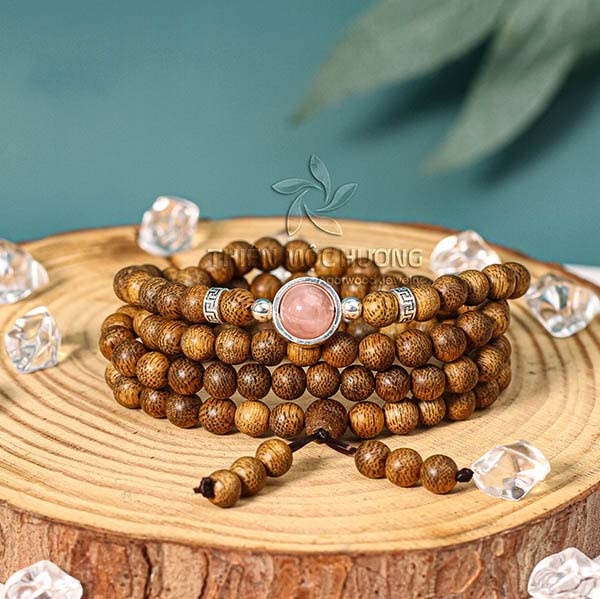 You can check out this link below about our product: 108 bead starlight mala beads 
Information about Thien Moc Huong:
 Address:
71 Nguyen Khac Nhu, Co Giang Ward, District 1, Ho Chi Minh City
120 Hai Ba Trung, Cua Nam Ward, Hoan Kiem District, Ha Noi 
If you want to see more 108 mala beads agarwood bracelet, you can now visit: 108 agarwood bracelet collection