End of 2021 and welcome the Spring of the Tiger 2022 – with Thien Moc Huong "Tet home – Everyone has gifts", Thien Moc Huong would like to offer customers an attractive promotion program. When customers buy at Thien Moc Huong, they will immediately receive 1 of 2 sets of Tet Gifts.
I. Promotion
10% OFF NOW
Give away limited edition Red Thread Ring worth $32 VND
SPECIAL: With bill from 5,000,000 VND, get a voucher of 500,000 VND (about $22) for the following order.
Note:
>>Promotion applies to bills from VND $85
>>Promotion period from: 05.01 – 30.01.2022 (aimed at December 5th – December 28th of Lunar Calendar)
GET OFFERS NOW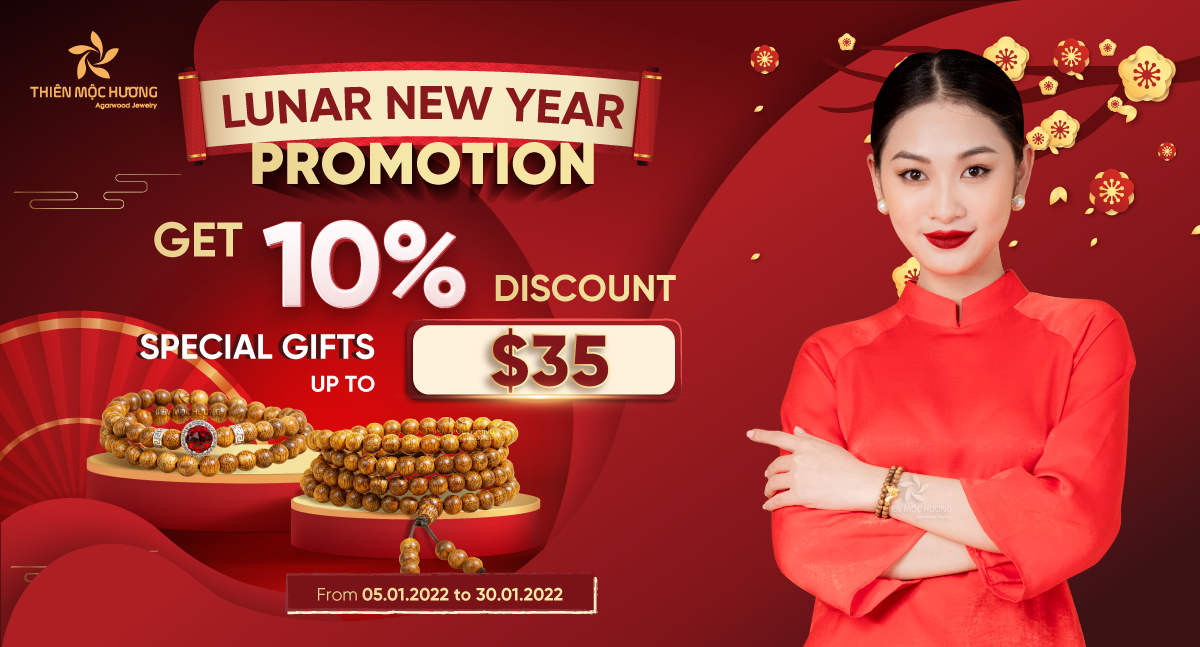 II. Special gift
Agarwood bracelet with red thread is auspicious, bringing good luck and good fortune. Not only that, it also carries many meanings that not everyone knows.
Red Thread Ring is likened to "Amulet" with feng shui meaning and closely related to spiritual issues. Agarwood has long been known as the mascot of heaven and earth, absorbing the essence of all things. So it has positive energy in it. Dispel evil spirits, bring good luck. Using the red thread is a way to protect yourself from curses and curses that hurt yourself.
Each knot of red thread according to the concept of the ancient Vietnamese people represents strength and cohesion. Each knot on the bracelet is equal, the tight links represent the meaning of increasing blessings, against evil things. The red thread has always been known as the predestined silk thread from time immemorial. Wearing a red thread bracelet also helps you attract the other person more, so it is considered to help the love line open.