Generating energy
Ocean blue agarwood beaded bracelet is one of the products full of youthful, positive energy that Thien Moc Huong would like to introduce to our dear customers.
Product information
Material

Agarwood 

Source

Indonesia

Number of beads

51-54 beads (depending on the size of the wearer's hand)

Age

10-14 years

Use for

Women 

This is a gifts for relatives, superiors or friends.

Bring luck, attract fortune, good air.
Description
General description   
Water is the element that forms life, the source of all living things. Therefore, water can bring a lot of wonderful things in life. Ocean blue agarwood beaded bracelet with sparkling water drops will wash away all anxiety and anger. Water flows everywhere and redistributes energy sources in the body, helping the wearer to balance the negative emotions and energies accumulated in the mind as well as the body, clearer mind.
The meaning of combining pure water drops with the poison of Agarwood 
Natural Agarwood is an item considered to be "the convergence of the spirit of heaven and earth", a precious treasure that strongly contains the xinxing and spirituality absorbed over the years. Because of its formation in the deep forest, Agarwood brought the energy source of life from Mother Nature combined with the modern and sophisticated image of the God of Fortune, bringing a sense of balance and creating a sense of love for life. happy, elated in the spirit. Helping the owner to be more and more young, happy and confident, dynamic from the inside to the outside …
In addition, Tram Huong also radiates around us a gentle scent blending into the atmosphere, helping our spirit and those around us feel comfortable, refreshed, dispelling the frustration, tired after a stressful working time as if bringing a fortunate new energy source to their owners. Agarwood is a feng shui item, bringing a sense of security, convenience in life, improving health and eliminating toxic substances, a healthy and healthy life for you and your loved ones.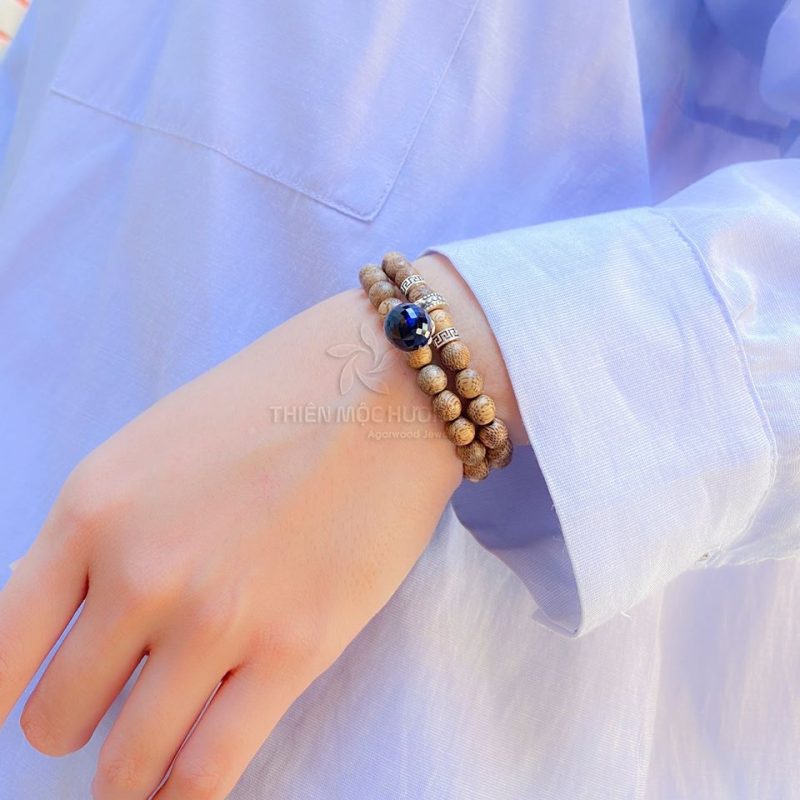 Ocean blue agarwood beaded bracelet – amulets protection of everyone
Ocean blue agarwood beaded bracelet

is also a Amulet, dispel all evil, dark, neutralize bad luck around the wearer.

More favorable at work, joy will be lucky, health will also improve and bring many other changes.

Especially suitable for people with Destiny and Destiny.

As a design in the hottest collection of Agarwood bracelets at Thien Moc Huong.
In addition, Agarwood also brings freshness to the wearer by the sophistication and fashion in the design, very luxurious and exuding nobility. Wearing a agarwood bracelet, we will feel the positive changes that it brings.
CHOOSE NOW for yourself an Thuy Quang Minh Agarwood Bracelet, suitable for your personality and destiny to have a favorable relationship, career advancement and good luck in life.
Some informations about Agarwood
Source
Agarwood is used to make Silver Circle Ty Huu mainly from Laos with a reasonable price, beautiful oil and cosy fragrance. Agarwood from Laos has the value of rare and high-class, giving customers a wonderful experience from scent to finished products.
Size of 10-14 years
Commit 100% of natural Agarwood products, with 10-14 years of sediment accumulation, no impregnated chemicals, quality assurance, detect fake alcohols 100% of the product value.
Placement of essential oil
The higher the age of Agarwood is, the more clear is Van Tram, the more oil content is contained in Agarwood. The essential oil helps to relax and especially sleeps better with incense.
Fragrance
The value of Tram Huong increases with the time of possession, the more it is worn, the more beautiful it is. The gentle aroma brings a sense of relaxation, comfort, and calm. Tram from Laos puts on a softness, serenity and a sweet taste that anyone will feel refreshed to use.
AGARWOOD PRODUCTION PROCESS