Family tree agarwood beaded bracelet is also a talisman, dispel all evil, dark, neutralize bad luck around the wearer; More favorable at work
Product information
Material

Agarwood 

Source

Laos

Number of beads

50-54 beads (depending on the size of the wearer's hand)

Age

12-14 years

Use for

Women 

This is a gifts for relatives, superiors or friends.

Bring luck, attract fortune, good air.

Meaningful gifts for Buddhists.
Description
General description   
No matter who you are, wherever you go, what you do, Family is always the fulcrum and the most important place for you to trust and return. The family is like a great tree, parents and grandparents are the roots and children, siblings are flowers and leaves. A family of happiness, peace, and fulfillment is like a lush, healthy giant tree. That is the premise for the artists Thien Moc Huong to design the Phuc Gia An bracelet. This bracelet also has many interesting meanings.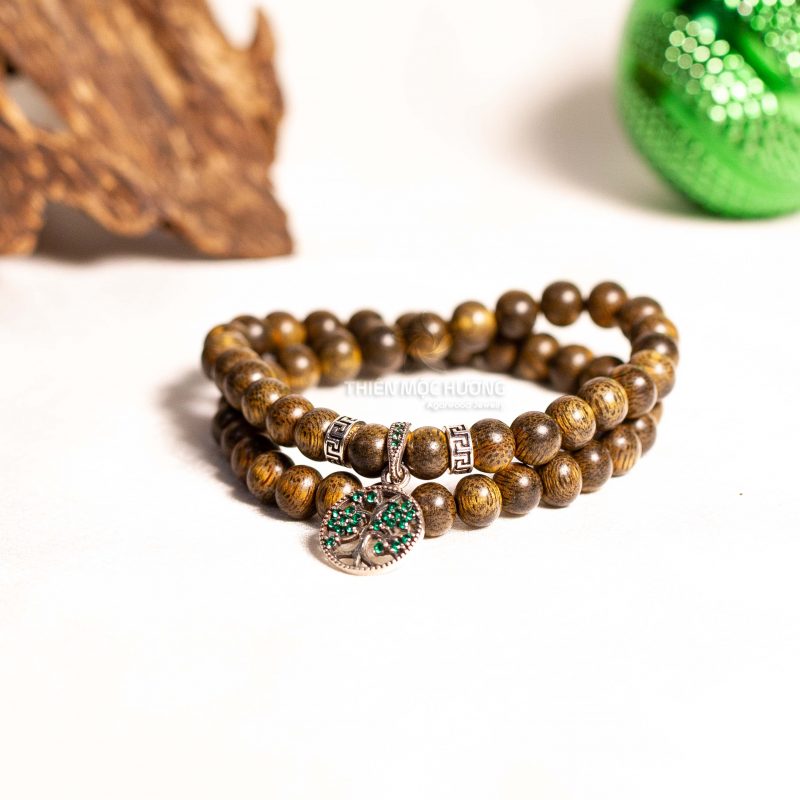 This agarwood beaded bracelet product belongs to Pandora Agarwood Collection hence it is the most preferable product for women at Thien Moc Huong store. Most notably, they used silver material to create a bracelet that has a compact design, precise but very aesthetic, charm bell. It has many very attractive uses that not all types of bracelets have.
The meaning of Family tree agarwood beaded bracelet
Natural Agarwood with the mentality and intuition absorbed over the years formed in the deep forest, carrying the energy source of life and earth combined with the leaves to bring balance in emotions and create feelings love life. Helping the owner to be more and more youthful and confident from the inside to the outside.
Family tree agarwood beaded bracelet brings blessings and peace.
Family tree agarwood beaded bracelet is also a talisman, dispel all evil, dark, neutralize bad luck around the wearer. stylish and stylish in design, very luxurious and exudes a sense of nobility. Wearing such a bracelet, we will feel the positive changes that it brings. More favorable at work, joy will be lucky, health will also improve and bring many other changes. The bracelet has characteristics suitable for all elements of the five elements, not picky so it is easy to choose.
CHOOSE NOW for yourself an Phuc Gia An Agarwood Bracelet, suitable for your personality and destiny to have a favorable relationship, career advancement and good luck in life.
AGARWOOD PRODUCTION PROCESS