We divide agarwood into 2 parts based on year of agarwood. These are submerged and young agarwood. Among bracelets, submerged agarwood which accumulate more 40 years, is rare and expensive. Thien Moc Huong suggest 5 ideas for choosing premium agarwood bracelets.
1. 108 beads Laos submerged agarwood bracelet: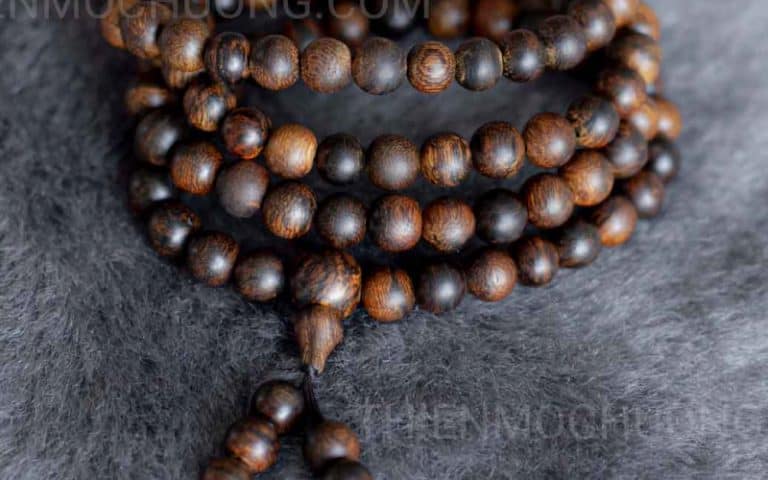 108 agarwood is a combination of rosary that brings peace and trendy jewelry. Wearing agarwood beads keeps their mind calm, peacful. Moreover, it show your elegance and luxury.
108 beads Laos Submerged Agarwood can combine with a charm. Therefore, it will protect you from bad things. In addition, your confidence will increase more.
2. Indonesia submerged agarwood bracelet: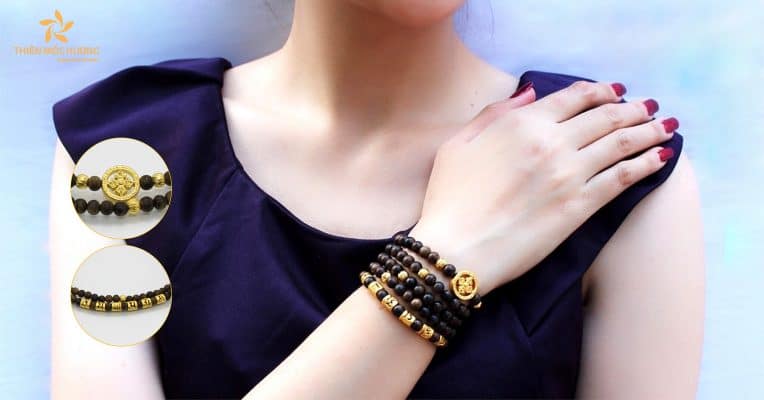 This is the highest-class Agarwood Bracelet of Thien Moc Huong. It is in the Golden Heritage collection. Artisans of Thien Moc Huong design this collection with their enthusiasm.
In his image of the philosophical Japa Mala of the Buddha combined with the 24K Gold material, the Eastern Dharma is not simply a piece of peaceful jewelry, but also directed to purity in the soul and lucid intelligence. This is the ultimate jewelry masterpiece only for those who really have exquisite taste, elegance and good direction, not everyone wants to have it.
3. Laos Submerged Amorphous Agarwood bracelet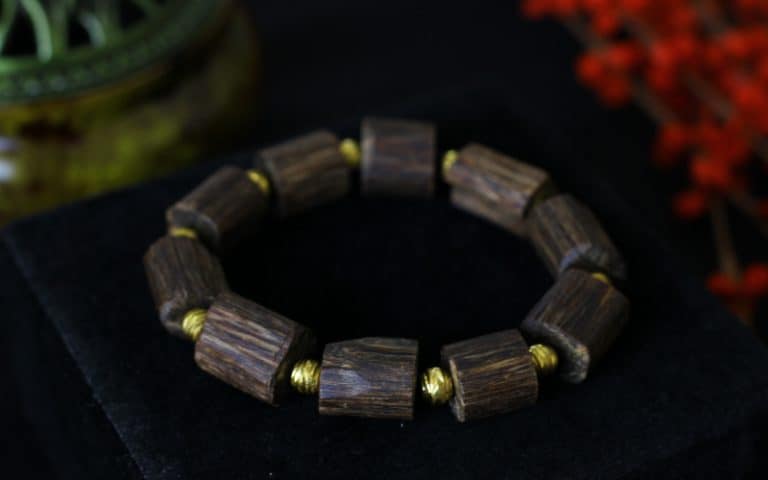 Amorphous Agarwood Bracelets Laos is probably the most special product of Thien Moc Huong because they preserve the rough and unique thorns of the agarwood fragments – symbolizing resilience and courage. and persistent. Besides, this also partly proves that Tram Huong jewelry is high-class and expensive, but not so that it is only for high-class customers, but we – Thien Moc Huong are always Direct your products to all customers. Therefore, the product is always streamlined and full of inherent simplicity and simplicity.
The high-class apricot agarwood is made from Indonesia with 24K gold charm feng shui. Each design has  a unique wish that Thien Moc Huong gives customers.
We take the inspiration of apricot. This flower symbolizes the spring, bring the spirit of heaven and earth. The gold apricot bracelet is a luxurious and subtle jewelry. It has more aesthetic and wishes for our families.
Agarwood Bracelet Submersible Nine-Tails is a product for couples. It honors the noble love, which is the strong bond between men and women. Wearing a bracelet will help your love road more favorable and warm.
Considered to be a high-class Agarwood Bracelet, not only by agar age, but also because of its exquisite and luxurious beauty when combining Agarwood and the image of the golden fox that this bracelet brings. Moreover, the use of love to connect couples is always favored by customers – especially women.